Net Promoter Score (NPS) is the no. 1 measuring method when it comes to customer loyalty. It is popular for its simplicity and the benefit it gives. You also don't have to analyse the results of a large and complex survey.
Net Promoter Score is based on the one ultimate question
The power of NPS is hidden in the simplicity of just one simple question: What is the likelihood that you would recommend (our company) to a colleague or friend? It was developed by Fred Reichheld, Bain & Co. And Satmetrix in the 1990s and they presented the method in the book,The Ultimate Question.
When you send out the NPS question to your customers they get to answer on a scale from 0-10, where 0 means not likely at all and 10 means very likely. Then, depending on the answers, you divide your customers into three different categories.
0-6 = "Critics " or "Detractors"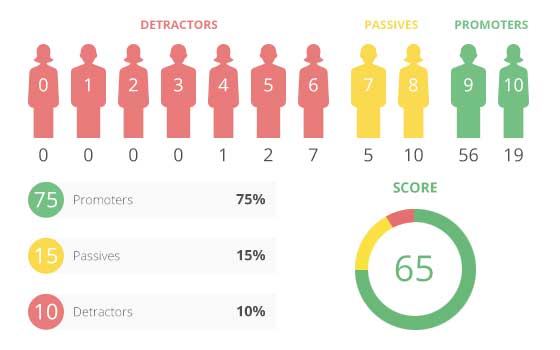 7-8 = " Passives"
9-10 = "Ambassadors" or " Promoters"
Net Promoter Score is then calculated:
NPS = percentage of Promoters − percentage of Detractors

The number you get after this calculation is your companies Net Promoter Score.
Include Net Promoter Score in Your Customer Feedback Strategy
NPS is by far the easiest and fastest way to get a quick and continuously over view of how loyal your customer is.
By measuring customer loyalty with Net Promoter Score you will get a score that:
You can use to compare both with other companies and internally.
Is easy to understand and also, you don't have to analyze the results of a large and complex survey.
Simplifies the process for communicating results internally and puts the focus on customer-related questions.
Easy to measure over time, giving you ongoing updates of your customer loyalty levels.
Of course, one question won't give you the whole picture – this method is too simple for that. We recommend using two or three questions in Total, and, if you want deeper information, to also perform a traditional customer survey.
"The Netigate NPS Solution enables our retail managers to take instant action on valuable feedback through automated email alerts."
How Jernia opens up a dialogue with customers.
How To Get Started With Net Promoter Score
Net Promoter Score is an easy method to get started quickly with. You just need a platform for sending out your survey. We would love to show you how to measure NPS with Netigate and we have plenty of tips and examples of how you can make it even more efficient with automated surveys and triggers via an API connection!
Read more about NPS and automated surveys in our community.
* Net Promoter Score is a registered trademark of Fred Reichheld , Bain & Co. And Satmetrix