A popup survey on your company's website is a great way to collect your vistor's opinions. Netigate's new Popup-Creator allows you to easily design a popup invitation to your website that invites visitors to participate in your survey.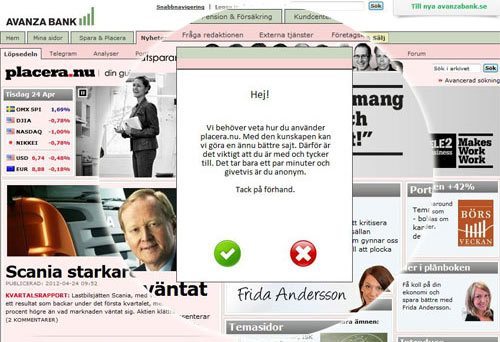 Drag and drop to create your one design
In the new popup-creator you'll find it easy to create an appealing popup invite that matches your companys design. No knowledge in coding is needed because you simply drag and drop the elements you want to use into the right places. Adding texts and images by dragging them allows you to create an invitation with total flexibility. You can for example add text fields, images, background colors and decide where on the website the invitation should pop up. You can also choose to start from our default template and from this create your one design.
Decide when the visitor will see the popup invitation
You can decide when you want your visitors to get the invitation. Either when they enter your website or when they click a specific button or image. This function helps you to be flexible when the purpose of the survey is varied.
See how the result will turn out in the
New Popup-Creator
To verify that the popup invitation looks good and end up in the right position on the website, you simple type your website url in the distribution overview. You can try it as many times you like while editing your invitation to be sure that the result will look as good as possible to the visitor.