Are you aware of the advantages of 360 degree feedback? In this article, you will learn more about why, when, and how to conduct a 360 degree survey. It is only one variant of an employee survey, but it is a valuable asset in your feedback system.
Why use the 360 degree feedback?
Competent and motivated managers are an essential part of every company's success. The classic 360 degree feedback evaluates managers on four levels. This helps to support every manager in their development by identifying their strengths and weaknesses. This evaluation provides a broad overview of the leadership qualities. It has therefore become a key instrument in ensuring customer satisfaction.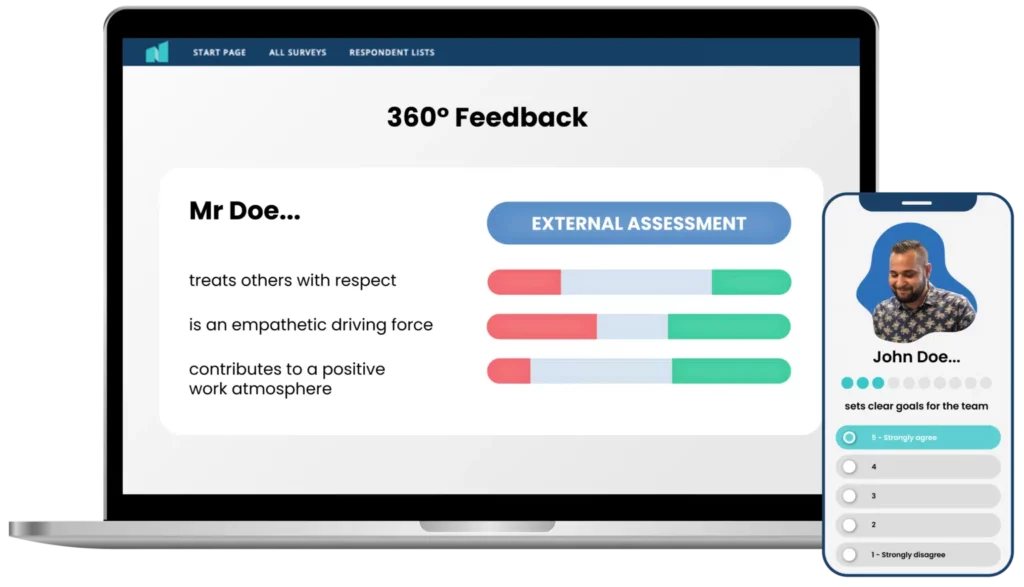 Utilising feedback to support development
Because feedback from multiple perspectives is holistic and differentiated, the 360 degree method holds many advantages for your company. Firstly, it means you can identify both strengths and weaknesses. Strengths can be used in a targeted way and furthered through training. Because you compare your managers' self-images with other people's opinions, you can help managers assess their own performances realistically. A 360 degree evaluation can also highlight whether you need to offer specific up-skilling or training opportunities in certain sectors and thus alter the training plans.
How to work with 360-degree feedback
As mentioned before, the key advantage of 360 degree feedback is the fact that you conduct evaluations on four different levels. You ask the direct superior of the managers you are evaluating for feedback, as well as the managers on the same level. In addition, you then ask the subordinate employees for feedback, and ask the managers to do a self-evaluation. The concept can be adapted individually. You can thus add certain levels, such as asking customers, for instance, and leave others out. Some sample topics you can cover with 360-degree feedback include communication skills, an understanding for the employees' needs, the competencies in their field of work, etc. In addition, you can complement the answers with boxes for comments, allowing for elaboration upon the respondents' assessment. You can find out more here as to why your employees benefit from a 360 degree feedback survey.
---
6 tips for conducting a successful 360 degree feedback evaluation to develop your leadership
Procedure
360-degree-feedback evaluates managers on four levels. Their manager, colleagues at the same level, and subordinate employees are asked to give feedback, as well as the managers themselves by means of a self-assessment. Depending on your goals for the survey, you can leave out or add individual levels.
Topics
Topics you can cover with 360-degree-feedback include leadership competencies, communication skills, social skills, and the capacity for self-management. The advantage is that you are able to gather feedback that is holistic, differentiated, and comes from different perspectives.
Advance Communication
Before you provide respondents with a link to the survey via email, you should clearly state and explain the purpose and advantages of conducting 360-degree feedback via your HR department. This will increase your staff's acceptance and willingness to participate.
Relevant People
In order to gain meaningful insights from your survey, you shouldn't let employees evaluate managers they are not in direct contact with. However, you should still survey employees who might not be working in the same field as the managers but are still in close contact with them.
The Right Questions
It is counter-productive to ask questions that prompt respondents to compare different managers. Similarly, you should avoid vague, generalising, or sexist questions or statements. Instead, focus on behaviours that can be observed and formulate questions in an unbiased way.
---
What are the advantages of 360-degree feedback?
By using the right 360 degree software to gather feedback, your managers, but also your company as a whole, can profit in many ways. Here are some advantages:
Holistic feedback
Evaluation from multiple perspectives helps you to gain holistic and differentiated feedback, which allows for a meaningful representation of competencies. A classic survey will only provide you with subjective insights from one side. Not always will the respondents of the survey actually work in close contacts with the managers they are evaluating. This means they will not be able to provide meaningful insights into certain aspects. However, this is not the case for colleagues and employees – they will have those insights, because they work with the managers. Therefore, the acceptance rate for results from a 360 degree evaluation is also higher.
---
Download: 360 Degree Feedback: Why leadership feedback matters
---
Comparing self-image and the opinion of others
Classic methods of leadership feedback usually focus on the opinion of others. The comparison of self-image and the opinion of others, however, allows the managers a more realistic assessment of their own skills.
Insights into strengths and weaknesses
The versatile evaluation helps to identify unambiguous strengths and weaknesses in your managers. In order to present the results to your managers, you can list the top 5 competencies that were evaluated positively. You can also list the weakness to develop concrete ways to improve them. This helps your general leadership development.
Uncovering potential
The delta between self-image and the opinion also allows your managers to uncover strengths they might have not been aware of. It also helps to identify competencies that the respondents might not value as highly as the managers themselves did. This way, 360 degree feedback also helps highlight blind spots.
---
Make use of 360 degree feedback advantages with Netigate
If your leadership suite is not aware of their own strengths and weaknesses and those of their employees, it is hard to pinpoint what is needed for the company's development. With Netigate you gain access to relevant information about employee experience, but also about topics like customer satisfaction.
Learn more about 360 degree feedback or employee surveys or sign up for a free 30-day Netigate trial.