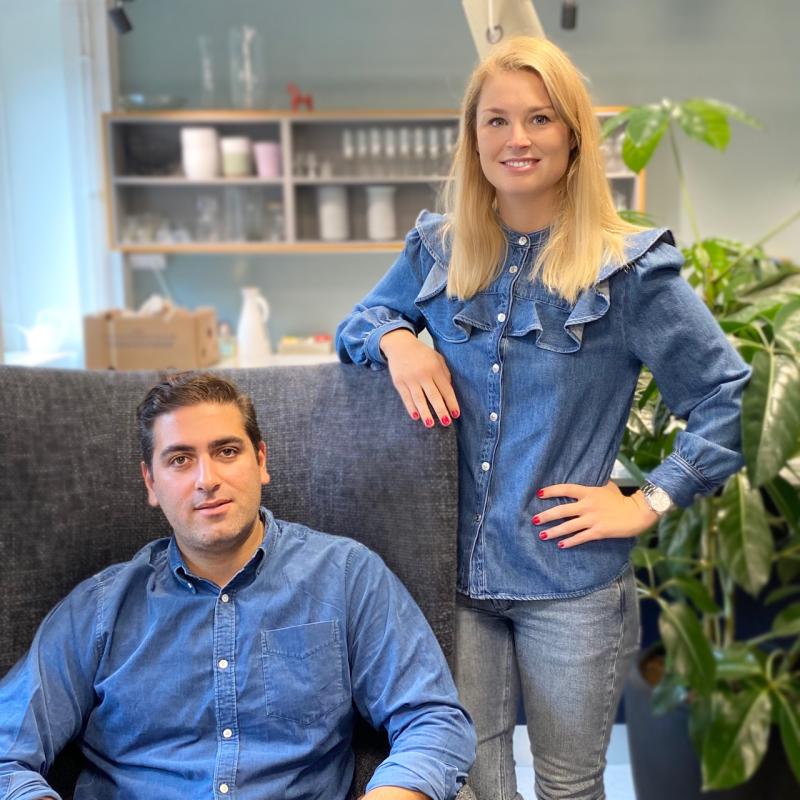 10 years ago, Aref Abedi started the tech company Jobylon. Today he works as CEO and has colleagues around the world. How did he manage to become so successful in his role as CEO? And how important is it to have committed employees and a strong customer focus? We met Aref Abedi to ask him about his journey at Jobylon and why it is so important for companies to listen to their employees.
About Aref Abedi
Aref Abedi works as CEO of Jobylon, a company he himself classifies as a product or tech company. He has worked there for 10 years now and has colleagues almost everywhere around the world – from Malmö to Brazil. He sees himself as a product and gadget nerd and spends much of his free time with both.
Can you tell us a bit about Jobylon?
We have always been called Jobylon and we have been around for a while. The product we have today was launched in 2014. We talk to HR managers and HR departments almost every day and what we hear over and over again is that they want more user-friendly recruitment tools. There are primarily two problems that you face on a daily basis. One is that it is very difficult to get recruiting managers to actually use recruitment tools. They are too complicated and managers have lots of other things to do, which can result in them not following the processes that HR sets up.
The second problem is the candidate experience. Everyone agrees that the candidate experience is incredibly important, but you are used to traditional job advertisements. They are cumbersome to apply for and you get no feedback in the process. This is exactly what we work with – we make a user-friendly and modern recruitment tool with a focus on the candidate experience.
Why have you been so successful?
I don't know that I am – I feel very grateful to work with what I think is fun and with people who really inspire and challenge me every day. Personally, I'm enthusiastic and hope it might be contagious. I have heard that I am quite solution-oriented. There is always an easier and better way, and I think a positive attitude may contribute.
You say to yourself that you may not be successful, are you just humble or do you devalue yourself?
No, I think I'm very good at a lot. Successful for me is what you have achieved. There is a lot we have done that is fantastically good and I am absolutely much better today at knowing my own value, but then you always want more. You want the next thing, it's the journey – that is the whole point.
What personality traits do people have who inspire you?
I love curiosity. Then you mentioned humility. That balance between being humble and confident, I think, is very cool. It is a very difficult balance. You must not become too confident and if you are too humble, you will not get through what you want to say. But I think a nice balance combined with a curiosity, especially about people, are traits that I find very inspiring.
What mistakes have you made since Jobylon was founded?
A lot of possible ones, that's our whole thing. We started in 2011. In 2014, we launched the product we have today, so before that even more mistakes were made. I think the primary mistake is that we, as a company, initially thought we knew what the market wanted. So, humility in the entrepreneurial journey – knowing that we have no control, especially not in the beginning – has become our mantra today. We are not experts in HR and recruitment, they are our customers. But if we understand them, we can use technology to help them better.
How do you create a customer-obsessed corporate culture?
We ended up in a scenario where we had to be customer-obsessed, otherwise we could not pay salaries in principle. When it is at that level, you start communicating more, and start talking internally about what we need to do to not lose the customer. It only becomes so relevant because you talk about why – why should we be customer-obsessed, what does it mean for the business and our revenue? It comes from a genuine feeling of really caring about the customer.
How do you get engaged employees at Jobylon?
Communicate more, no doubt. It's not that simple, far from it. We talk a lot about clear directions: where are we going in the next 2-3 years? If that direction is clear enough, how can we create a culture where everyone feels that they can take initiatives and decisions as long as they feel that it goes in that direction? This is something we work very hard on. We have one-on-ones where we talk about this stuff, which is exactly how we create a forum that fosters better communication so that I get feedback. It is as useful to me as it is to anyone else.
Do you have any tips? Any podcast tips, book tips, or a life hack you want to share?
My life hack is to google more. There are always easier ways. I think people do not google enough. One podcast tip is #CommunicateMore and the #HREatspodden by Jobylon. A great book I read not so long ago is The Infinite Game by Simon Sinek. I think it's incredibly cool. It is precisely about companies acting as if there is a start and an end, and a winner and loser, while it is really an infinite journey with different milestones. It has become a book for us at Jobylon. I think it is incredibly interesting and I can really recommend it!
Thanks Aref!