Online surveys can help you massively in your marketing work, today understanding your customer is equivalent to business success. We give you 10 tips on how you can improve your marketing simply by using different types of surveys.
Tip 1. Customer Satisfaction – keep customers, get new ones and increase your sales
Dissatisfied customers won't be your customers much longer. The people who buy your services or products are the foundation of your company's existence and keeping them satisfied should be every company's highest priority. Almost all companies strive to increase sales and give the best customer experience possible. The clever ones know that measuring the level of customer satisfaction is necessary to set the foundation for true customer satisfaction. Try asking your customers what they think. You will be surprised at how eagerly most of them will share their thoughts and opinions with you.
Tip 2. Increase your Customer loyalty with Net Promoter Score (NPS)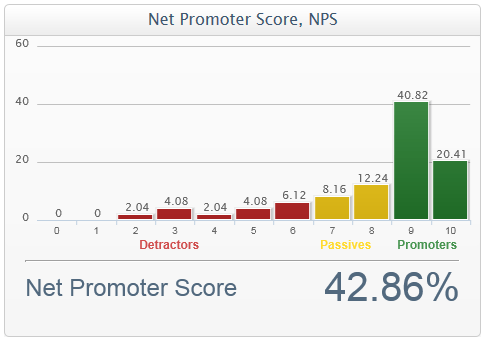 Would you like a tool that gives you a numerical indication of how loyal your customers are and which you can use to compare yourself to other companies? It exists, and it's called a Net Promoter Score (NPS)*. NPS measures your customer loyalty, and how willing they are to recommend your products to others, by asking the simple question "Would you recommend (our company) to a colleague or a friend?" Sound simple? That's one of the reasons why NPS has become so popular.
NPS surveys save you time and give you constant update on your customer satisfaction level over time. This allows you to see changes immediately and gives you a great opportunity to take quick action. Many companies use NPS surveys to evaluate their customer satisfaction and this collected data gives you the opportunity to compare your NPS results with others in your industry. In short: NPS surveys helps you increase customer satisfaction, attract new customers and raise profitability.
Tip 3. Improve your impression with website feedback surveys
Where is the first place we go when we need information about a company or a specific product? Most of us use Google and hopefully we find your website. For some this is their first impression of you while others are known customers searching for some specific information. However, that first impression of your website is essential. Your website needs to be user friendly, have an attractive layout and great navigation to satisfy visitors and keep them on your website as long as possible.
We might think that our website is great because we ourselves can easily find what we are looking for. Instead, try seeing it from the visitor's perspective. Visitors of different ages, genders and computer experience see your website in different ways. If your goal is to have as many happy visitors as possible there is one simple solution: ask for their opinion! By using a popup survey on your website you give your visitors the opportunity to answer a few quick questions. This gives you a great basis upon which to improve the layout and build a user-friendly, clean, good-looking website.
Tip 4. Total knowledge about your market- research via panel surveys
Market research is a great way to gain insight about your market potential, your products and your offer. But market research used to be connected with consultants, high costs and long processes – until now. Save your valuable time and money and take control of your own research project by using fully customizable online panels. With a connection to Cint Link you get access to over 7 million panelists in 50 countries and can easily specify your unique target group. Choose for example country, gender, age range or be as specific as traveling habits or mobile use habits. Using panels through Cint Link is also a guarantee that quality of the panels follows the industry standards.
Tip 5. Every great event starts with an evaluation of the previous one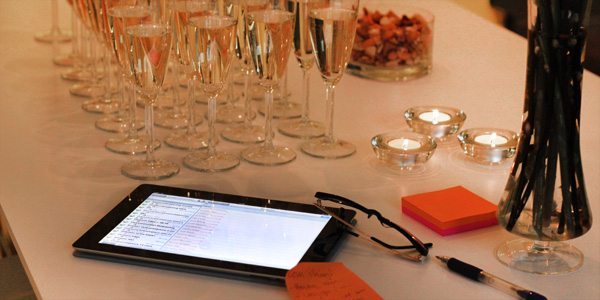 Make evaluations a habit after every event and gain valuable insights for future events. Regardless of industry, events are a great marketing opportunity to showcase your company and products, or to just do something nice for your customers. Companies spend a lot of money making events in to great get togethers for their stakeholders, but not many think of the value of evaluation after the event. What did your participants think of the event? By performing post-event evaluation surveys you gain valuable information that helps you to improve and be more cost efficient in the future.
Tip 6. Reach people regardless of location – use surveys on the go and benefit from people's extensive use of smartphones and Tablets
Reach the right people at the right moment through their smartphone or tablet. Smartphones and tablets have radically changed the way people use the web People today are online everywhere; on the go, off to meetings, events, on the bus, on their sofa or at trade fairs. Take advantage of the fact that many people have a smartphone or tablet with them wherever they go. It gives you the opportunity to collect current information in a fast and easy way. You can send out surveys in the field, for example after a seminar or meeting. You can reach your respondents within minutes and they can answer directly via their smartphone or tablet.
Tip 7. Increase your sales with lead generation surveys
Increase sales and gain new customers. How can surveys help you with that? Many marketing departments use several online tactics to generate leads, for example SEO, newsletters, Google Adwords etc, Online surveys are a great addition if you wish to increase your leads. Every survey you send out is a possible lead generator. When the respondent answers the survey you can ask them to leave their contact information. With an incitement, maybe the chance to win something, you increase the respondents' willingness to share their information. After the survey you can use the result as a lead generation by providing information in exchange for contact information.
Tip 8. Make your survey viral with social media surveys
Use social networks to spread your survey. Facebook, twitter and Google+ are given platforms that make it easy to share links. But if you are being creative and use additional platforms such as Instagram, Pinterest or Flickr you can cover a big part of where people hang out on the internet. Using social media is a great way to reach specific target groups. Social media is fast and changing, you can communicate with your fans, reach people easily and find new customers. Sending out a survey through social media means reaching your audience in their social hangouts.
Tip 9. Go global with international surveys
Have you set your sights on a new market in another country, or are you already a global player covering several markets? Understanding the market and customers in other countries is essential if you want to be successful. Different countries differ in culture, purchasing behavior, dislikes and product-preferences. Surveys are the easiest way to collect information about your target group's needs. Multilingual surveys save you time and you can in an effective way investigate and compare several countries and collecting the results in one place. The surveys results give you valuable information on how to expand, where to establish new offices or which changes you need to make to your marketing strategies.
Tip 10. Share insights using interactive dashboards
Large amounts of information flow through companies every day and filtering out which information is important to which people can be hard work. Survey results are the type of information which some people need to know everything about while others just need important key information. A survey dashboard helps you filter information gained from the results of surveys and visualize key data in clear and easily understandable graphs. Survey dashboards save time for the those who's responsibility it is to take action based on the results. Interactive dashboards allow them to fully focus on the key information and the real-time information in the graph gives good conditions for quick solutions for improvement.
Need to get it right the first time?
As you can see from the above, there's a lot, like surveys, you can do to improve your marketing skills. If you need to get it right the first time or don't feel you have the internal experience or capacity to build it, read through our Consulting: How Can We Help You? page and then contact us to find out if we'd be a fit to help you.
Last thoughts
Thank you for joining us here in this article about surveys to help your marketing. We want to make it as easy to get in and learn and apply the ideas as we can, so if you have any requests or feedback, please contact us.
If you want to be notified of updates to this or other guides, subscribe to our newsletter below in the blue section at the bottom of the page.
* Net Promoter Score is a registered trademark of Fred Reichheld, Bain & Co and Satmetrix.