We all know that feedback is important. And we all know that online surveys are by far the best way to gather feedback quickly and in a structured way. But the real success of a survey is not in the survey tool we use but in the right question and feedback strategy. What does that mean in practice? And what does it mean for choosing the right feedback tool? You can find the answers in this blog post.
Setting up and sending surveys has never been easier. Simply select a survey template in the survey tool, make a few adjustments, and the email goes out to your respondents.
That's great – if it weren't for reality. The easier it has become to create and send surveys, the more people are inundated with surveys. It's a bit like the early days of email: In the beginning, we were excited about every email that came in – now we're drowning in the flood of emails and fishing out the ones that seem relevant to us.
The situation is similar to many surveys. A phenomenon called "over-surveying".
Does "over-surveying" devalue the relevance of a feedback tool?
Does this mean that surveys are no longer useful? On the contrary, when it comes to improving the customer experience and the employee experience, it has never been more important to ensure that as many voices as possible are heard – and that the feedback is put to good use.
So, the goal today is not to send out a survey, but to get meaningful feedback through surveys. And technically, that means We need to say goodbye to old-school survey tools – and think more in terms of a modern feedback tool with a holistic view of feedback!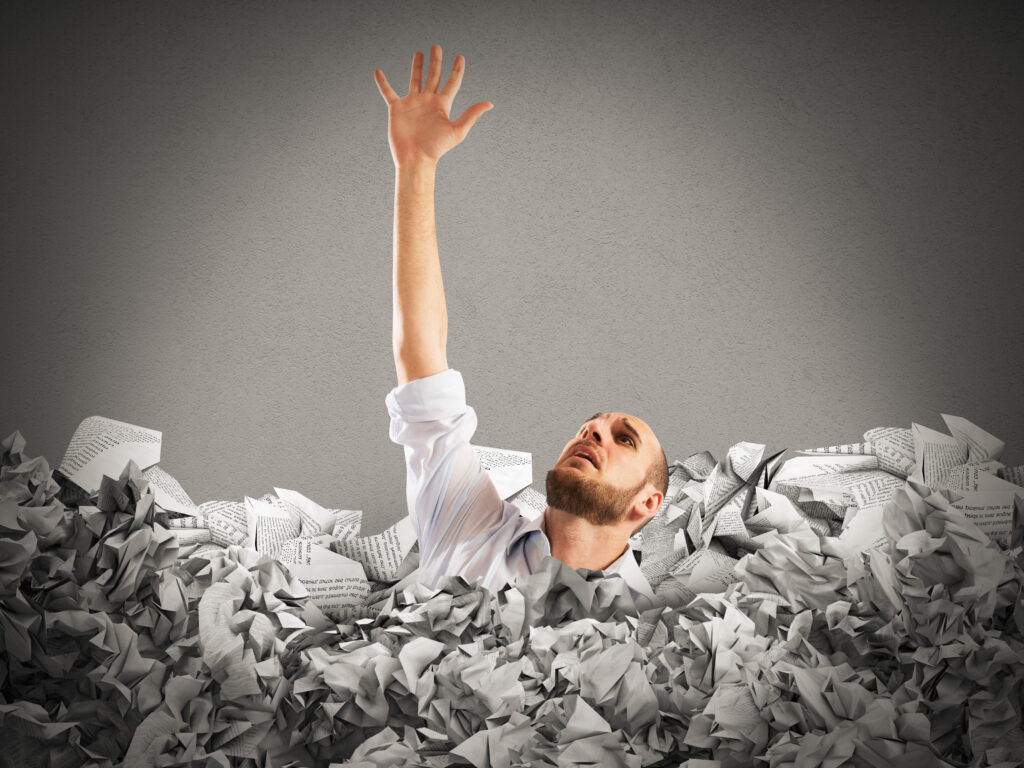 3 decisive steps to set up your feedback tool. You won't find them in any manual!
So when we use a feedback tool, we should also take a holistic look at our feedback strategy or feedback journey in our company. And that means:
Develop your feedback journey first: First of all, develop a rough plan on a piece of paper, e.g. for the development of your feedback journey. When do you want to ask whom about what (if you don't want to be alone): The Netigate Consulting Team will be happy to help you develop your feedback journey).
Take the time to design your survey. Sure, there are great templates for many applications (like NPS surveys, eNPS surveys, and more). But even then: make sure that your individual questions are taken into account. Because only questions you ask will be answered. For example, you may have had problems with delivery times for some time. In that case, ask your customers what they think about it – and maybe even for ideas on how to improve it.
Include as much background information as possible in your survey. Is customer status important? Or an employee's management level? You can include this information in your online surveys, even in a secure environment. Only with background data can you create truly meaningful reports.
And then: Only after you have gone through these 3 steps will the actual survey tool and survey delivery come into play.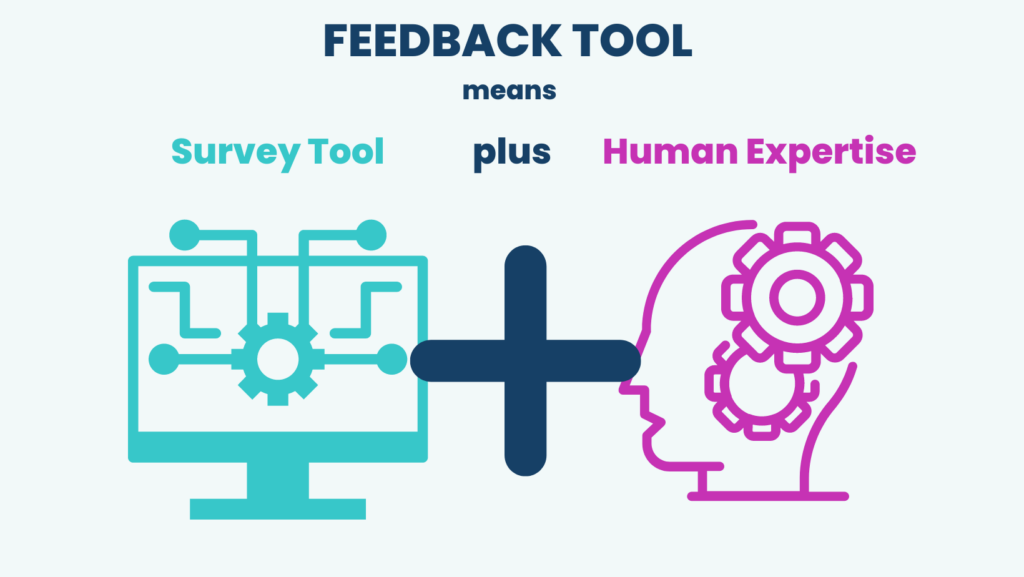 What to really consider when selecting a feedback tool
So, when choosing a feedback tool, you should not (only) consider the apparent functionality of the software, but also how this tool can support your important requirements for your feedback journey.
If you look at the survey tool market, you will find numerous low-cost vendors that will certainly allow you to send out good surveys. At the other end of the performance scale, you'll find very expensive enterprise software solutions that require a lot of training.
But there is also a player in the middle between the two poles: The feedback tool Netigate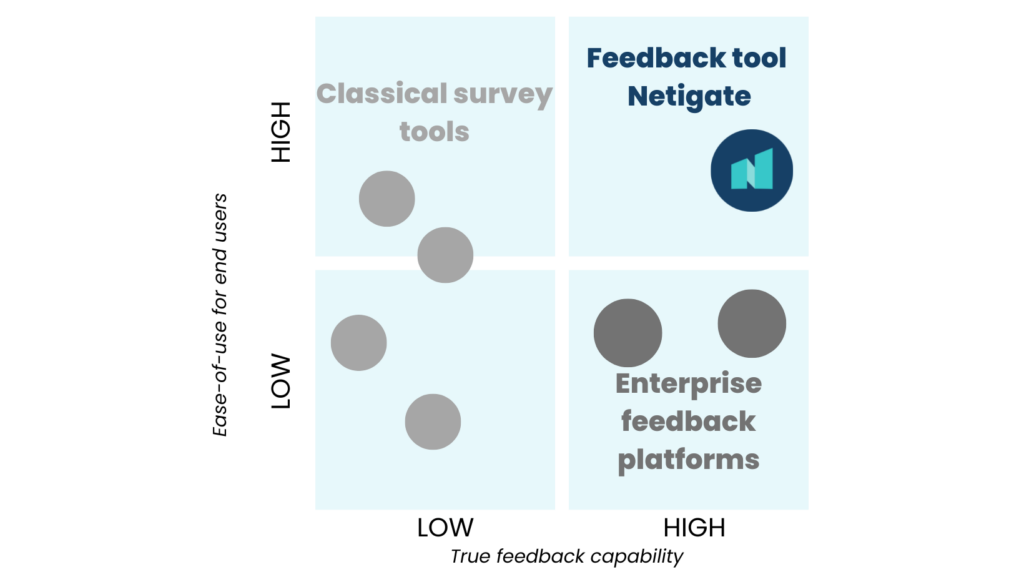 AI-based feedback tool plus human expertise: The perfect combination with Netigate
And then there is Netigate: We at Netigate are very proud to have created a unique feedback tool on the market with our combination of a powerful survey tool and human advice and support:
Benefit from more than 40 trained survey specialists, market researchers, and social scientists in our Netigate Consulting team, who can personally support you, e.g. in developing your feedback journey and designing the ideal questionnaire.
At the same time, you build your surveys on the undisputed "feedback tool for professionals", which effortlessly maps the high demands companies place on feedback processes: For example, the use of complex logic, the integration of background data, the creation of reports using artificial intelligence, and much more – of course with the highest security standards and fully GDPR-compliant. See all features here…
So if you're looking to grow through feedback in the future: Don't look for a survey tool. Look for a real feedback tool like Netigate, that stands by you as a truly human partner. Book your demo with us now!