1. Bullseye has never been easier to hit
Surveys are shorter, faster and more accurate
If you think that the number of surveys you receive every week has increased, you are probably right. Companies nowadays are well aware of the importance of customer dialogue and feedback. The major difference today is that the surveys are shorter, faster and more accurate than before. Instant feedback surveys are automatically triggered by different actions in CRM systems, and sent out immediately after a customer has purchased a product or service. Surveys are accompanied with a lot of interesting data, well hidden from the respondent, giving companies the opportunity to see when and where the purchase was made, who the sales representative was and what was purchased. There are several reasons behind any given survey, but the main goals are to gain insight about the purchase itself and to give the customer a possibility to leave feedback when the purchase is still in the front of their mind.

2. Customer loyalty is priceless
Several years have passed since Jeffrey Gitomer released his book "Customer satisfaction is worthless, customer loyalty is priceless", but the social media explosion has made this quote more relevant than ever. It takes 20 years to build a reputation and five minutes to ruin it. If you think about that, you'll do things differently. Using a metric like the Net Promoter Score has made it possible to measure customer loyalty over time and immediately act on both positive and negative feedback. Using your promoters the right way could well be your most successful lead generator this year.
3. A sledgehammer for your cause
Results from surveys have been used by PR-agencies and marketing departments for years and can be a very powerful way to make yourself heard. If the results are handled and distributed cleverly, they can give you convincing additional arguments to back up your cause. There is also an ongoing trend that journalists and bloggers use their own online research to generate articles for their newspapers or magazines. Swedish newspaper Expressen is at the forefront in this area and uses online surveys to dig up interesting facts around various topics. One of many examples is a survey among Swedish politicians about threats and harassments (article in Swedish). The need for external research conducted by consultants is decreasing as they can easily and quickly ask their target groups by themselves – at no extra cost.

4. Your customer is always online – why should you care?
That's right – you shouldn't. Your customers are always online, but you should never have to think about where or how your respondents answer your surveys. Your design templates should always have a responsive design, which simply means that the survey answer page is automatically adjusted to your respondent's browser, regardless of whether they answer through a smart phone, a tablet or a laptop. With the introduction of tablets and smart phones new ways has opened up on how to use online surveys. For example, gathering feedback at trade shows, cunducting live polls, event registrations and collecting quiz answers. Or make a small opinion poll among the visitors in your local shopping mall.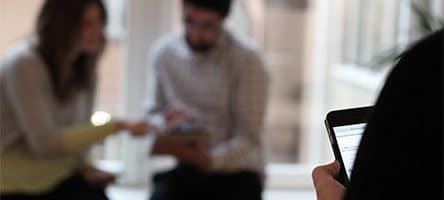 5. Valuable content is king
Content marketing has been one of the big trends in 2013 and it will continue to grow this year, but content is simply just content until someone cares about what you are saying. The key to success is to produce relevant content that generates real value for your readers. To help you in your content marketing plan, online surveys can benefit both strategically and operationally. To give an example, many companies today conduct their own research to find out what really interests their primary target groups and thereby produce more accurate content based on knowledge rather than believes. Surveys are also used to show expertise and thought leadership in areas where you want to be seen. You can learn more about how surveys can help you create more effective content marketing in this article.
Read more:
10 ways online surveys can help you to become a better Marketing manager!
Tell us your views on online survey trends
What do you think is the most importent online survey trends 2014? Feel free to add your comments below or contact us if you have any questions.