The Marketing Manager Barometer Q4 2013 is based on responses from 132 marketing managers and the selection includes Sweden's 600 largest advertisers. The accumulated advertisement budget of the participating companies is equivalent to approximately one tenth of the investments in marketing communications in Sweden.
Daily newspapers are losing advertising money
During the year, newspaper advertising fell by 4%, from 16% to 12%. If the progress continues at the same rate, it would mean that newspaper advertising, as we know it today, will face some very difficult years ahead.
Our Marketing managers also predict a black future for newspapers: 40% do not think newspapers in paper will remain on for 10 years from now and the main reasons that advertisers spend less money on newspaper advertising are because they consider it to be expensive,that there is too much waste and that it is difficult to measure the effect.
Where is the money spent instead?
Not entirely surprising, most of the marketing managers say that the budget instead goes to the internet, but also mobile marketing starts to take a larger share of the pie.
Three major marketing trends in 2014
The survey also shows that other important topics for 2014 are how to increase commitment and make the customer involved, to personalize content and to optimize the media mix.
Content marketing the biggest trend for 2014
One of the most important trends of 2014 for marketing departments is to work more focused with content marketing. More than nine out of ten marketing managers claims to be using some form of content marketing and the main purpose of content mareting is to strengthen the brand rather than generating new sales.
We are increasingly moving from purchased to editorial.
How do marketing managers work with content marketing?
The top activity is clearly social media, followed by the publication of editorial articles and newsletters. Most marketing departments are producing content by themselves: 72% creates their content marketing in-house. Making your own podcasts end up at the bottom of the list.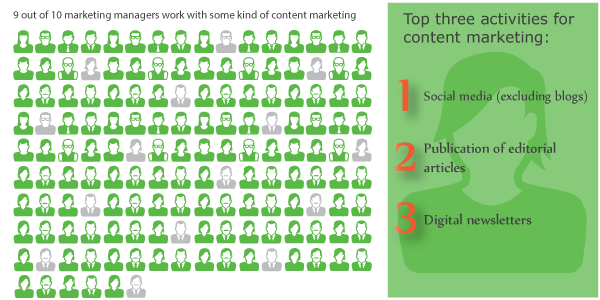 The Marketing Manager's challenges for 2014
What does Sweden's marketing managers think are the biggest challenges for 2014? Among many interesting thoughts, many mention the difficulty to reach out in a fragmented and changing media landscape and to reach out with their messages digitally. Another challenge is to measure their results and be able to show a tangible ROI.