The coronavirus pandemic has led to all of us making significant adjustments at home and at work. For businesses across the world, this has meant finding a way to survive, whilst prioritising the health of employees above all else. Furthermore, many of us are also making
the decision to self-isolate
for the sake of society as a whole. One solution? Working from home. In this article, we look at 6 key tips for successfully transitioning from the office to the
home
office.

1. Communicate with colleagues regularly
Communication is one of the most important factors for success when working from home. It helps you to make sure you're focusing on the right tasks and keeping the right people updated. For teams, regular communication also helps to keep you all aligned despite the distance. Thomas Nyström, CEO at Netigate, explains that clear and regular communication is paramount in times of uncertainty. In light of COVID-19, it helps to keep employees informed about guidelines and next steps. More generally, it creates a sense of continuity and routine for employees. Ultimately, you want to keep up the momentum to create a seamless transition between home and office working.
2. Use technology that makes working from home easier
Technology bridges the gap between you and your colleagues when you're working remotely. Here's a quick breakdown of how it can work for you:
Communication: Video calls are a great way of keeping in touch with colleagues when you're working from home. They're perfect for holding one-on-one or team meetings, making it feel like you're all in the same room. Many professional platforms, like Microsoft Teams, will also allow you to share your screen with other people in the call. This is a great way of holding presentations and sharing other work with your colleagues, in the same way that you would in a face-to-face meeting.
Document sharing: Platforms like Google Drive and OneDrive offer the ability for multiple people to work on the same document at the same time. Even though you and your colleagues might be hours away, you can still see what they're typing as they type it. Features like suggested changes and commenting also make it easy to exchange fast feedback and get things done regardless of the distance.
Task sharing and organisation: One of the biggest challenges managers have with home working is keeping track of team members and their tasks. Tools like Trello and Asana offer an excellent solution to this. By managing tasks in a central location, it's easy to keep track of who's doing what and how tasks are progressing.
You might run into some hurdles if you're not used to working regularly with these technologies. Don't worry— this is normal. To help iron out any issues quicker, try to set some guidelines about how the technology should be used. Echoes and other audio feedback in video calls? Remind people to mute their mics when they aren't speaking. Not sure which platform to use and when? Write down clear instructions and distribute them within the team. There's usually a solution for every problem!
3. Create structure in your working day
Whether you're used to working from home or not, it's useful to plan how you're going to structure your day. On an individual level, this will mean outlining your tasks for the workday so that you have a clear focus. You can either do this each morning before beginning work, or in the evening as the last task of the day. At a team or organisational level, structure can be created by holding roundup meetings in the mornings or review catchups at the end of each day. This ties into our first tip about communication: it creates a sense of momentum and helps you— and the team you work with— to keep up accountability and pace.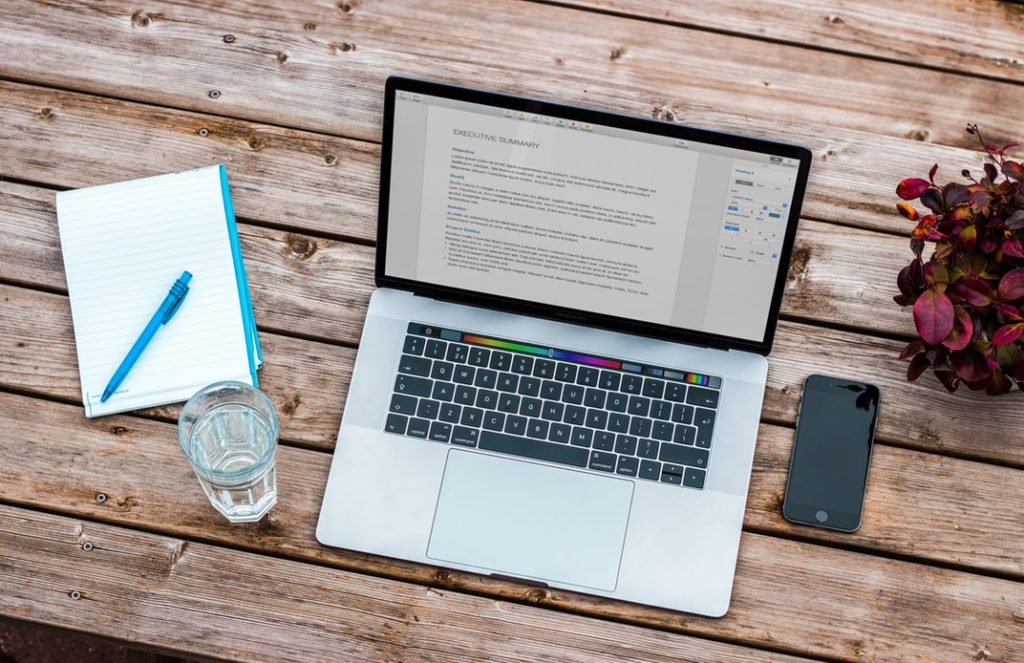 4. Have a designated space when working from home
Having a designated space for work gets you in the right mindset for being productive. Try to find a quiet spot in your home where you're comfortable and free from distractions. A desk and a comfortable chair are ideal, but a kitchen or coffee table will also do in a pinch. Not all of us have the luxury of a home office, so do be mindful of where you to choose to work. While working from bed may seem like a good idea at first, you might regret your decision when it's time to relax later. If you work from bed, your brain will begin associating it with the office. This is a surefire way of keeping you up at night and causing the quality of your sleep to decrease. The key take away here? Get comfortable— but perhaps not too comfortable!
5. Be understanding of colleagues adapting to new working conditions
The coronavirus pandemic has given us a glimpse into the workplace of the future, where working from home may become more commonplace. Right now, however, many of us are adapting to this new way of working. In light of this, it's important that we recognise the new challenges our colleagues might be facing. Distractions like children, pets, and other household members might arise given current circumstances. Work together with your teams to figure out solutions to these issues. Allowing more flexible hours, for example, might be appreciated by colleagues who now find themselves accompanied by children during the day. In the same vein, try to plan group calls at a time that is suitable for the whole team. Once again, we find ourselves referring back to the importance of good communication when working remotely.
6. Get regular feedback from your employees who are working from home
If you're part of a leadership team, now is an important time to gather feedback from your employees. This is especially true if remote working wasn't previously an established part of your company culture. Do employees have everything they need to do their jobs from home? Can they easily contact their colleagues when required? Are they getting enough information about what's going on in their department, or across the company as a whole? These are all important questions to help strengthen employee productivity when working from home. If you are a Netigate customer, you can now access our COVID-19 survey template, which addresses all of these questions and more. Simply log in to your account, and find the survey under Survey templates to get started.