So Nina, why is SCA taking part in the Volvo Ocean Race 2014-2015?
SCA is a leading hygiene and forest products company, developing and producing sustainable personal hygiene products, tissues and forestry products. SCA manufactures and sells products throughout the world, and approximately 80 per cent of our consumers worldwide are women. By taking part in the Volvo Ocean Race, we hope to increase awareness of SCA and strengthen links with our customer-oriented and consumer brands, such as Libero, Libresse, TENA and Tork. We would also like to make it possible for women to take part in things that h
ave, historically, been the reserve of men.
Volvo Ocean Race makes ten stopovers, where sponsors and partners can get customers and visitors more active in a number of ways. At each stopover, SCA has a pavilion where we talk about SCA and how our hygiene products help people live their lives to the full.
Can you give examples of some of the ways you have been working to build and improve your brand presence during the Volvo Ocean Race?
In order to use the stopovers to find out how our visitors view SCA and our brand presence, we have set up a number of visitor surveys. Visitors are interviewed on the spot, and clients who have been invited to take part in targeted events are also sent an email with a link to a B2B survey at the end of the stopover. This means we get both valuable B2C and B2B feedback and the chance to follow up smoothly on important KPIs. It also gives us an overview of different markets and the chance to compare and contrast different stops, meaning our brand message and communications can be adjusted where necessary.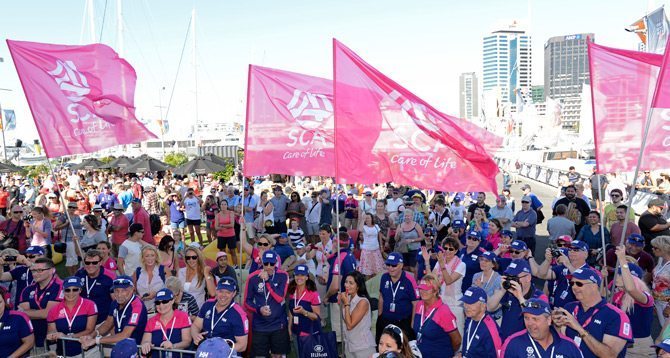 How has Netigate's online survey platform helped you?
Netigate helps us collect feedback from key customer groups via iPads, tablets and e-mail. The platform also meets our needs in terms of being able to collect comments easily in multiple languages, enabling comparisons between different stops and over time. Netigate has also given us support in formulating questions and recommended the best scale models for our needs. With this, we have gained a tool that enables us to report and follow up on results from each different stopover quickly, both from a B2C and a B2B perspective. This means that we can now both act on and correct problems quickly, which also gives the organisation that little extra incentive to perform better!
Quick facts: SCA Ocean Racing Team
Captain: Sam Davies
Crew: 13
Nationalities: 6
Average age: 33
Race distance: 38,739 NM
Number of stopovers: 10
Duration: 9 months
Website: teamsca.com