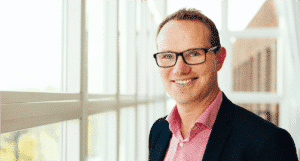 This year, Roland Flaig was awarded the title of Health Promotion Manager 2020 by the Swedish business magazine Chef. As Managing Director of the energy supply group RWE Renewables in Sweden, the mental and physical wellbeing of employees is paramount.
Together with his team, Flaig has developed programs that strengthen employees' ability to look after their emotional health and be supportive of others.
At Netigate, we had the opportunity to talk with Roland about health promotion activities, as well as corporate governance and teamwork during the current pandemic.
The old attitude of having to stay healthy just in order to do a job has changed.
"We live in a world that many can find increasingly stressful. A lot of us want to do other things alongside our work. The old attitude of having to stay healthy just in order to do a job has changed. Today, we want to be able to work and manage our free time simultaneously."
With this philosophy in mind, Flaig trains his managers and employees to work as sustainably as possible. He explains that the Swedish branch of RWE Renewables has always focused on creating a workplace that keeps— and even 'makes'— employees healthy.
The journey to healthy working
RWE Renewables is a pioneer in the field of 'healthy working'. The German company focuses on the development, construction, and operation of onshore and offshore wind farms in Northern Europe. Flaig's foray into the energy sector— and his interested in illness prevention work— began 11 years ago as a human resources manager.
The Swedish view of a health-promoting workplace is unique and we have much to contribute to—but also much to learn from—other countries.
"Sustainability has always been part of my job. This is both as a human resources manager and in my current role as managing director," says Flaig. "Now, I also have the opportunity to try the Swedish approach to health promotion in a number of other European countries to see how it works. The Swedish view of a health-promoting workplace is unique and we have much to contribute to—but also much to learn from—other countries."
When it comes to concrete activities and tips for creating a health-conscious workplace, Roland divides this into two parts: physical health and mental health.
Physical health means giving our employees the opportunity to stay in reasonable physical shape. This might take the form of providing employees with a gym card, joint activities, or an office gym. With regards to mental health, Roland stresses the importance of strong leadership in the workplace.
Roland and his team have developed a Sustainable Leadership program within RWE's Nordic operations. This is based on the Kasam model, which centres around the question 'Why are we healthy', rather than 'Why are our sick leave levels high'.
Sustainable leadership and teamwork
"When it comes to leadership and teamwork, we've always worked to ensure our managers are well-rounded individuals who invest in more than just their job. We also ensure that they are provided with the tools they need to understand themselves in relation to sustainability. Only then can they support their employees in the next steps."
During the COVID-19 pandemic, actively working to ensure a healthy workplace can be difficult. For RWE, it's business as usual in the sense that the energy and electricity supply is still needed, not least in hospitals. Alongside the sense of continuity at a business level, Roland and his team are taking additional steps to protect staff during this time.
"Of course, it's important to create and see meaning in the work we do on a daily basis. This is perhaps easier in our particular industry where we have a crucial role in the sustainable energy conversion. When it comes to practicality, those who normally work in our offices are now working from home where possible. Then we also have our field operations, where we have established permanent teams of two people in order to reduce social contact at work. We have deployed this insulation strategy throughout our Europe offices and it has worked well. We are simply making sure that we find solutions that follow the authorities' recommendations."
In order to maintain staff morale, the managers have a great responsibility to keep up close contact with their teams. This applies to both employees in the field and in the home office. Thankfully, there are some great digital solutions to utilise during this time. They've even helped to provide closer contact between employees and managers than usual.
"I would say that we now have more control over our communications than even before the outbreak."
Roland's top 3 tips for creating a health-promoting work culture
Focus on physical activity. At RWE, there are treadmills and other equipment to make it easier for employees to be active.
Offer training for managers and employees that will help to improve their energy consumption and sustainability.
Get to know— and work by— the values of your company. But remember to be yourself!