Netigate has assembled a brand new expert board consisting of external experts who will work with us in the area of employee experience. At Netigate, we believe it's important to broaden your horizons and learn from people outside your own company.
We were able to win over some incredible personalities for our network of experts who are working together in the area of employee experience.

Rainer Schätzlein, Managing Director Professional Services DACH at Netigate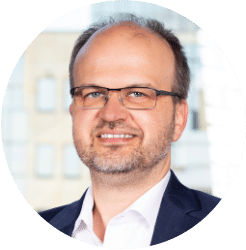 Rainer Schätzlein acts as the internal point of contact for the board. He leads the Professional Services department for the DACH region at Netigate and has been active in market research and empirical research for 20 years. His primary focus is on the topics of employee and customer satisfaction. He works in close cooperation with the experts on the expert board.
Expert network
The board members include Catherine de la Poer from England, Klaus Dürrbeck and Mascha Will-Zocholl from Germany, and Niklas Delmar from Sweden.
Catherine is a founder and leadership coach with more than 20 years of experience. Emotional intelligence is at the heart of her coaching approach.
Klaus is a partner of the Munich Leadership Group and deals with the topics of training, consulting, coaching, and transformation.
Mascha is a professor of sociology of digitisation of work and organisation and researches this change in the context of digitisation.
Niklas is a teacher and communicator. He gives lectures and training courses on organisational, leadership, and employee development.

Netigate asked our experts three questions about their backgrounds and what they expect from the Expert Board and the relationship with Netigate. Here are their answers:
---
Catherine de la Poer
"I'm fascinated by human behaviour, specifically the impact of thoughts and feelings on our ability to deal with change. We are creatures of habit and at the same time the most adaptable species on our planet. I like to explore this contradiction."
For Catherine, there is plenty of opportunity to create sensory experiences that engage the whole person as we learn more about the human brain and stress responses. This allows us to understand how we as employers can create optimal environments for excellence.
"There is so much untapped potential in companies. I have made it my mission to change the discussion about the value of an organisation. We are moving towards a future where emotional culture is seen as important as financial metrics for growth. Partnering with Netigate offers great value and scope for further investigations in this area."
Catherine has previously worked with Netigate to present a webinar on emotionally effective leadership. The event focused on emotional intelligence as being central to successful leadership and why it is becoming increasingly important.
Klaus Dürrbeck
According to Klaus, organisations are created by their employees. Any corporate culture should help the people who are part of it to work smarter, better, and be happier in it.
"Excellence in each area is driven by collaboration between academics and practitioners, so I am very happy to work with interesting, bright minds. My contribution will be practical insights into a variety of companies, as well as my personal curiosity about new topics in the field of EX."
Mascha Will-Zolloch
As a professor of sociology, Mascha explains that the numerous personal interviews she was allowed to conduct as part of her scientific research with employees of various organisations have sharpened her sense of the hopes, concerns, and needs of employees.
"I expect a valuable exchange in an interdisciplinary perspective, especially with professionals who are close to the employees. I see my contribution primarily in scientific results and the introduction of open questions in the Netigate research areas."
Mascha has already worked with Netigate, together with Rainer Schätzlein, on a webinar titled The Future of Employee Experience – Workplace 4.0. The main focus is what expectations employees have of their employer today. She also researches how companies can efficiently design the workplace of the future.
Niklas Delmar
Niklas is one of the three co-founders of the initiative and organisation HejEngagement. The organisation's mission is to contribute to greater wellbeing, engagement, and sustainable outcomes for organisations, teams, and individuals.
According to Niklas, everyone can contribute to creating good conditions for engagement and inner motivation. He appeals to the understanding that individuals are 100 percent responsible for the engagement and energy that everyone brings to different situations in the workplace.
"We are each other's working environment. We all want to be part of a world where more people go to work because they want to, not because they have to. I aspire to working for us as a team in order to be able to bring different perspectives to the Netigate network."
Netigate's benchmark study on employee engagement
Netigate has been measuring the attitude of German employees towards their employers for more than ten years. The aim is to show what creates motivation and what is important for employees to reach their full potential. The study is based on 3,000 interviews with experts, combined with 10 years of experience from our own Netigate data and the insights of our Expert Board.
---
Check out the 2022 benchmark study in German here.
---
Do you understand your employees?
Due to remote working and home office, we are currently seeing an increased demand in examining the perspective of employees. We have developed a free survey template to help you measure the impact of COVID-19 on your company and collect feedback from your employees. Sign in to your Netigate account to get access to the survey template for free. Alternatively, you can use our free 30-day trial account without obligation.