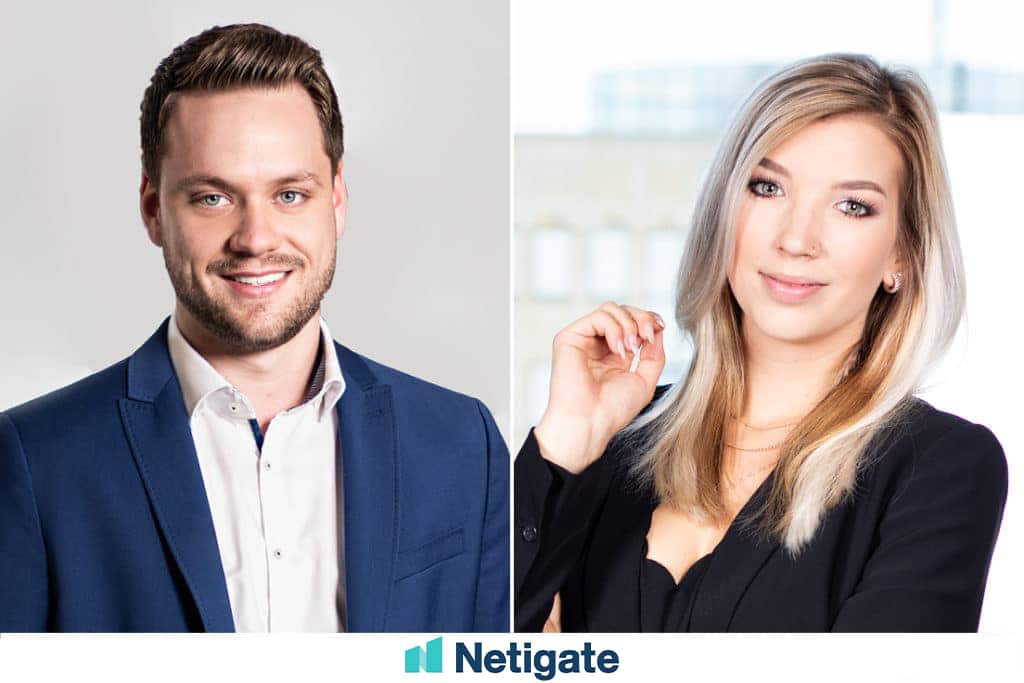 The Customer For Life teams in Germany are working hard to create the most valuable and efficient offering to our German, Austrian, and Swiss customers.
Customer For Life (CFL) teams offer all Netigate customers additional personalised assistance to help make the most of their partnership with Netigate. Working within teams of four to five members, teams focus on getting to know customers better and building a close relationship.
Teams are a mixture of Customer Relations, Professional Services, and Technical Consultants. Head of Professional Services Operations, Laura Rudolph; Technical Project Manager Martin Endres and Account Manager Pascal Jaeger are members of just one of the Netigate CFL teams at our office in Frankfurt.
Being proactive: Netigate CFL finds opportunities for customers
Laura explains that the core of the team's work is finding the unique potential that each customer presents.
"Every week we start with a meeting to discuss what our customers are doing," she says. "We talk about their projects, what they need, or if they could be getting more from their Netigate license. We're being proactive."
For the customer, it can be hard to see exactly what all the possibilities are. Working together with the Netigate CFL team brings a wide range of capabilities and experiences together to help find the most interesting and effective solutions.
"From my side, it's perfect that I'm not the only person who talks to the customer at first," explains Pascal. "Laura and Martin have different expertise and knowledge to bring to the table. Plus this way, the customer knows that it's not just a salesperson who wants to earn money. It's a team that have their best interests at heart."
Pascal describes how the team can assess a survey's potential success. Or example cases can be shared ahead of implementation to help customers see the results they could achieve. Therefore feel more confident in potential projects.
"If I speak to the customer and they're not sure, we have an optional 'survey check'," he says. "It's quite normal for businesses to be concerned with getting good value for money. So if I can send them some samples, we can show them how they can improve. As a team, we discuss how they can do better and help them understand the difference we can make. This works well – both for us and the customer."
The value of getting to know everyone better
With the concept of "Customer for Life," one team focuses on each client to build a relationship over the long term. Getting a deep understanding of customer journeys, processes and projects can help the team identify exactly where they can offer extra guidance.
"Although it's a service available for everyone, each team focuses on a specific customer branch. In order to build expert knowledge of challenges and developments within the branch," says Laura.
It's not just a tool or a product that customers buy into when they join Netigate, Pascal suggests. It's a whole team of consultants, technicians and experts. Every team is made up of different experts, brought together to offer a 360-degree service.
"Each one of us is specialised in our department of the company and research," explains Laura. "As a team, we know the customer better, so we can create more tailored solutions together from the different pieces of knowledge and views we have."
Martin agrees; "It gives our customers additional value because the skills that we have are more spread out. As opposed to only one customer relations person talking to a customer."
Being in these focused teams also comes with the benefit of learning from each other, too.
"We as individuals learn from each other a lot," says Laura. "From our meetings and as a team leader, I learn a lot about customer relations, and meanwhile Pascal is learning about professional services from me."
Faster turnaround times and more accurate predictions
Working closely as a team with customers gives the teams a macro perspective. This allows us to analyse, act on and improve results even more efficiently – and to predict timing and outcomes more accurately.
"It's easier for all of us to understand the process and how to make it the best experience for the customer." explains Martin. "We are like players in a team. The better we know each other, the more benefits, services and trust we can provide the customer. Customers can trust us because they see that we know what we are talking about and work together to get the best results."