An employee interview is a personal, systematic, and planned conversation between employee and manager. Conducted well, this is a good tool for effective planning, follow-up, and furthering employee development. The vast majority of companies conduct employee interviews even though it is not required by law. So why do we have such conversations? Employee interviews are one of the most important tools a manager can have to create employee engagement and improve results across the organisation. In this article, we'll give our top tips on how to conduct a successful employee interview.
The purpose of an employee interview
To some, the phrase 'employee interview' may set alarm bells ringing. But an employee interview is not about 'assessing' an employee and their performance. In fact, it's a conversation about the larger work situation. The purpose is to contribute towards creating a good foundation for both personal performance and a healthy working environment. This helps to promote trust and openness between managers and employees, by improving communication and cooperation. In addition, they are a good tool for planning and development. As a result, a number of companies refer to such conversations as development talks.
It is the manager⁠—i.e. the immediate manager with personnel responsibility⁠—who is responsible for arranging an employee interview. The manager also needs to design the interview with a clear purpose. However, it is important to remember that both parties have a joint responsibility for the employee interview being successful and carried out with trust and a sense of equality.
Preparation and planning are the key to success
An employee interview is a conversation about development that requires planning and preparation. It should create security and trust. Therefore, it must be clear what the purpose of the conversation is. At the same time, there should be clarity about what it will be used for and who will have access to the employee interview afterwards.
In addition, both parties must know when and where the conversation will take place. It should take place in an undisturbed place, preferably where both parties feel that they are on neutral ground. It is also important to set aside enough time as employee interviews can last from one to three hours.
In addition, the manager and the employee need to prepare and think about what they want to get out of the conversation. This way, you can create the necessary conditions for the interview to be successful. For this reason, the employee must also know the agenda for the interview.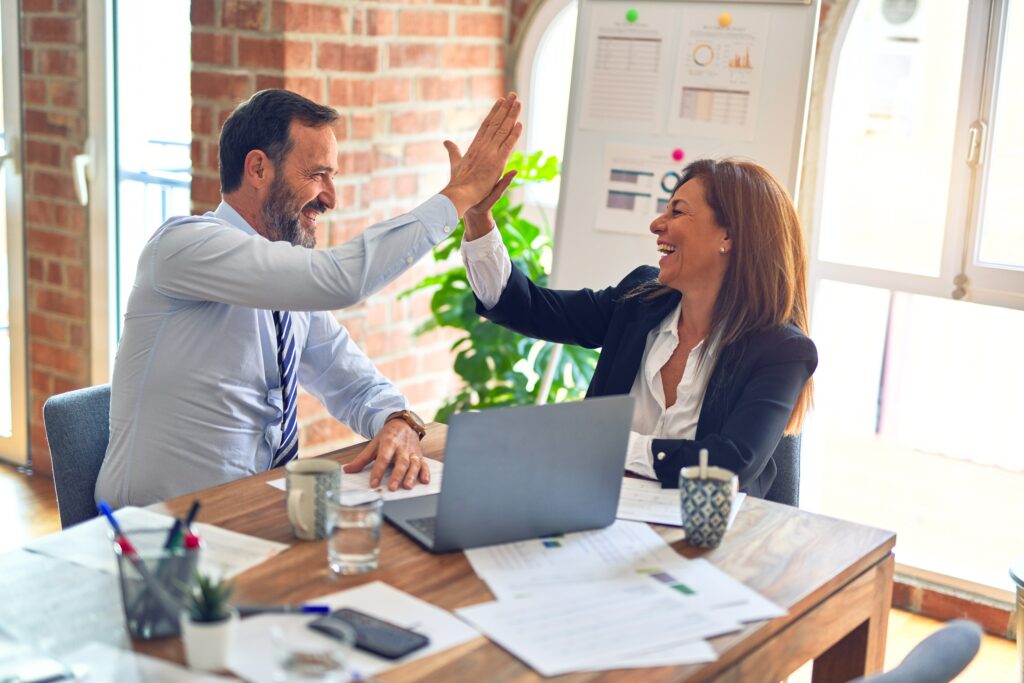 Create an analog or digital form in advance
There is no one, right way to carry out preparations before an employee interview. For example, some companies use a form with an overview of the most important points of the conversation. However, the world is becoming increasingly digital. For this reason, an anonymous employee survey can be a good option to submit before the interviews begin. This way, you as a manager can map out any challenges as well as things that work well. Alternatively, managers can send a personal pulse survey to the employees to prepare for any measures that they discuss during the employee interviews.
Whatever you choose, think about what is most important for the conversation. Do you want to focus only on the future? Or do you want to find out what has happened and been achieved since the last employee interview? Think carefully about the questions and how to use the answers after. This is important in order to set clear and realistic expectations.
---
Read more about conducting Voice of Employee surveys.
---
Setting a structure
Most importantly, you need to ensure that you structure the employee interview is well. For example, if the employee has previously had such conversations, it is natural to start where the most recent conversation ended. Then it is down to the company and individual employee to choose what they think is important to include in the conversation. Below are some suggestions for points to weave into an employee interview:
The purpose of the conversation
Constructive feedback
Map motivation and wishes
Relationship between the company's goals and the employee's wishes
Tasks and priorities
Cooperation and environment (physical and psychosocial)
Agree on concrete measures
Together, you need to set new goals and plans. This will result in a development plan that contains measures and activities for competence development as well as personal and professional development. In other words, create an overview of who should do what and when and set up a schedule.
During the employee interview
The manager and the employee must be mentally present and listen to each other. Try to keep the exchange open, on equal terms, and carried out with empathy. In other words, as a manager, you need to make sure that you listen and ensure employees feel taken seriously. Managers must also be aware of their position and the power they have as leaders. In addition, they need to realise the impact their feedback has on their employees.
Things to avoid
Avoid bringing up negative topics during the employee interview. For example, previous cases involving behaviour, lack of results, etc. must be something that the manager and employee have addressed before. You should not bring it up out of the blue. Both parties must accordingly be specific and respectful. The manager and employee must accept criticism in an open way and also ask for suggestions for changes.
Even if salaries are an important conversation, an employee interview should not be the stage for wage negotiations. Instead, you can arrange new meetings for topics that you have not yet included in the employee interview. This way you avoid focusing on the wrong things. Also remember to keep minutes of the conversation.
---
Check out our ultimate guide to employee retention.
---
Follow-up to the employee interview
It is important that an employee interview does not become a two-three hour long interview where minutes are kept and then forgotten. Instead, employee interviews must be a continuous work tool that is used all year round. For this reason, follow-up meetings are also important. As a result, nothing comes to a standstill and you can keep track of whether you are on the right path. In follow-up meetings, the development plan is also assessed to see whether it has functioned as agreed or if it needs to be changed.
The implementation of the development plan is a mutual obligation between the manager and the employee. For example, the employee is responsible for implementing the development plan and the measures established in an employee interview. After that, the manager is responsible for following up, providing support, and finally making sure that the employee is on the right track. By following the tips above, you can be sure that you are getting started properly and carry out successful employee interviews, where results and development are the focus. Good luck!
---
Want to find out more about ensuring employee engagement, creating a healthy work environment, and establishing a comprehensive feedback system? Get started by contacting us via this form or start your free 30-day trial today!