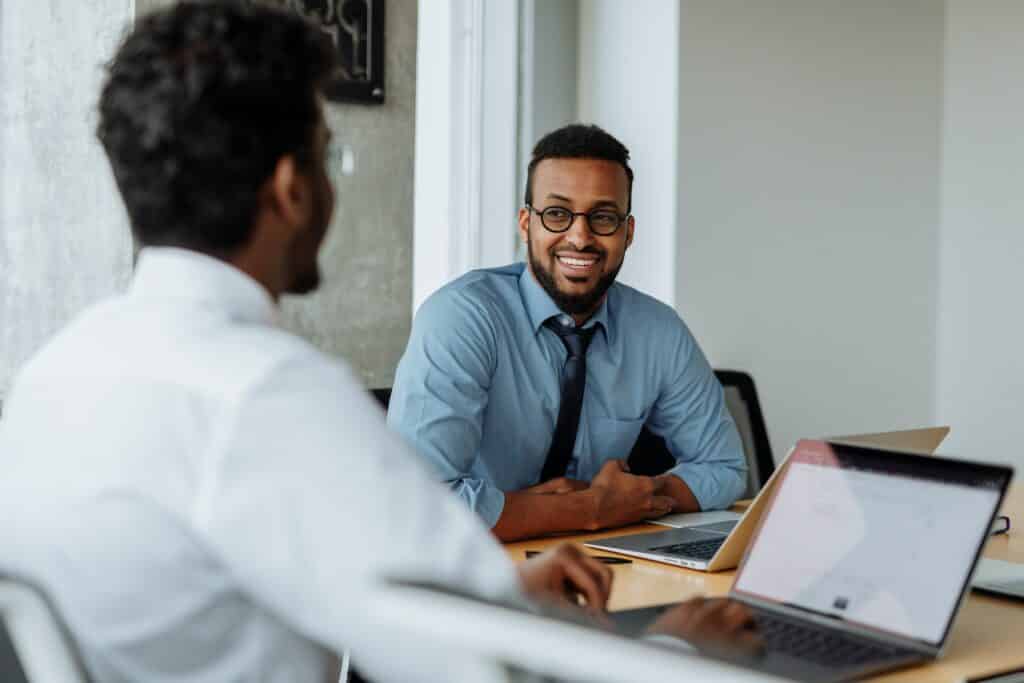 Do you know how your employees are feeling today? What moods they've experienced while at work and how they feel when it's time to leave? With the help of an employee mood barometer you can quickly and easily find out and use the data to help you improve your employees' experience at work. In this article, we'll have a look at what a mood barometer is, how it works, and how to use it to keep your people motivated and engaged.
How does an employee mood barometer work?
The mood barometer is a feedback tool that allows you to get a quick overview of your employees' current mood. With the help of a short survey question at the beginning of the working day or shortly before the end of the day, you can find out employees' current mood. This can be generally or with regards to specific topics.
Ask your employees to enter their mood on a scale or in a table using a points system. You can implement this point system in the form of a traffic light (green, yellow, red) or on a scale of 1 to 5 or 10 (where 1 means very bad and 5 or 10 means very good). You can then accumulate and present the recorded data to managers, providing a quick insight into the current mood of their employees. This will then enable them to identify pain points and implement improvement measures in a targeted manner.
How can you use the results from a mood barometer question?
You can use the mood barometer creatively to record the opinion of your workforce on various topics. Some examples are:
Working conditions: How satisfied are your employees with the current working conditions (equipment, working atmosphere, tasks)? Are there factors that worsen the work situation?
Managers: How satisfied are your employees with their direct managers? For more information on executive feedback, have a look at our article on 360-degree feedback.
Working atmosphere: How satisfied are your employees with the working atmosphere between colleagues? Are there unresolved conflicts?
Employee mood: What is the general mood of your workforce– how are they feeling?
Appreciation: Do your employees feel valued?
Company image and employer branding: Are your employees proud of you as an employer? Are they willing to recommend you to others? You can also use the employee Net Promoter Score to measure this.
What business goals can a mood barometer help you with?
Using an employee mood barometer can help you to achieve multiple business goals, including:
Lower employee turnover: Employees at companies that use mood barometers and collect feedback show higher engagement. Staff turnover is also lower for employees at these companies. This is good news for companies who want to hold on to their top talent in today's competitive marketplace.
Higher productivity: Engaged employees who are given the opportunity to share their feedback are more productive than non-engaged employees. This leads to higher profitability, better customer service, and higher employee morale in the long run.
Possible disadvantages of the mood barometer
The mood barometer is a good tool for getting a quick overview of employee mood and easily tracking it over time. However, you should not see it as a comprehensive feedback tool, but rather a supplement to a holistic feedback strategy.
In order to dig deeper into the employee experience and understand why employees feel the way they do, you will need to supplement the mood barometer with more qualitative data. For example, following up with an open-text question allowing employees to explain their scores.
Likewise, you can only use a mood barometer to assess one topic at a time, while other methods can provide more multi-layered⁠—albeit more complex⁠—insights. For example, you can combine it with pulse surveys and an annual employee survey to get a complete overview of the employee experience at your company.
---
Ready to start sending your own employee experience surveys? Try Netigate free for 30 days. Build your own surveys from scratch, or get started with our expert-crafted feedback templates through our VoE software.