360 degree feedback has become a valuable staple in any effective feedback system. In this article, we'll have a look at what exactly 360° feedback is, which variations exist, and how you can use it to your advantage. By making use of it, you can improve your employee experience and the performance of your company, and in order to do that effectively, we'll outline when the best time to do it is, as well as what themes to cover and what to avoid in your surveys. Finally, we'll tackle the question of how to analyse and implement the results you have gained in a fruitful manner.
What is 360 degree feedback?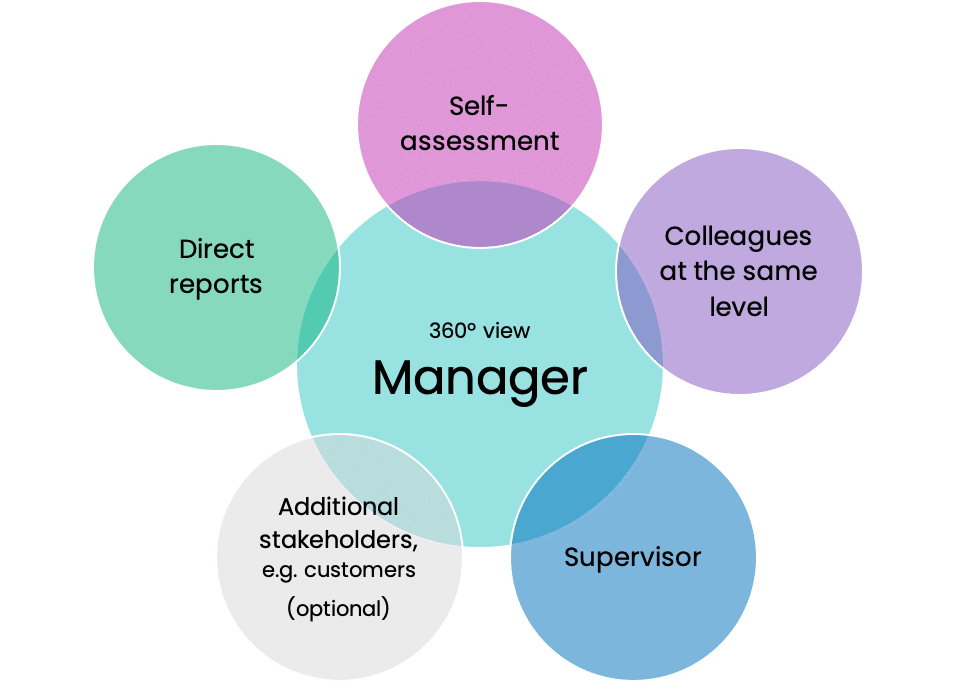 360 degree feedback allows you to evaluate managers at four different levels. Your leaders are the focus. They are evaluated by their managers, peers at the same level and employees who report to them. In addition, the managers themselves carry out a self-assessment.
This is the standard approach to 360 degree feedback that is conducted internally. You can, however, involve external stakeholders like customers or suppliers.
Why use 360 degree feedback?
The goal of 360° feedback is to get a comprehensive overview of the leadership qualities of your managers and is part of the employee experience. It's valuable for the individual managers and their personal development and their professional development, but also for the company as a whole. Through the assessment, you help leaders to become aware of their strengths and weaknesses and their effect on others. This allows them to develop in a targeted manner. It therefore also increases overall employee satisfaction and engagement. Thus, 360 degree feedback has already become a key tool in management development and employee satisfaction in many organisations.
---
Download our ebook for a detailed guide on 360-degree feedback.
---
Which variations are there for 360-degree feedback?
Each 360º feedback process can be adapted to suit individual managers and their personal objectives. This means you can choose how many different perspectives to include and create different variations of the process. Topics you can cover with 360 degree feedback include leadership skills, communication, performance and accountability, collaboration, work process, and more.
90 degree feedback (bottom-up feedback)
With bottom-up feedback, managers are only evaluated by those colleagues who report to them. This means that the evaluation of the selected manager is only conducted from 'bottom' to the 'top'. The managers are only evaluated by their direct reports.
180 degree feedback
As for the 180 degree feedback concept, you simply supplement the bottom-up feedback with the In this case, the bottom-up feedback approach is expanded by having the manager complete a self-assessment. This allows for a comparison between how the manager views themselves and how others view them.
270 degree feedback
A 270 degree survey involves getting feedback from the manager's manager in addition to their employees or subordinates. They will also carry out a self-assessment.
If you then add the feedback from colleagues at the same level as the manager in question, you will get the complete 360 degree evaluation.
What are some relevant themes?
In order to be able to provide your managers with comprehensive and meaningful results, you must set up a high-quality 360 degree feedback questionnaire. Possible topics to cover include:
General leadership skills
[The manager] recognises the performance of his/her employees.
Social skills
[The manager] is open to constructive feedback.
Information & Communication
[The manager] communicates expectations to direct reports in an understandable way.
Empowering others
[The manager] gives his/her direct reports the opportunity to take responsibility.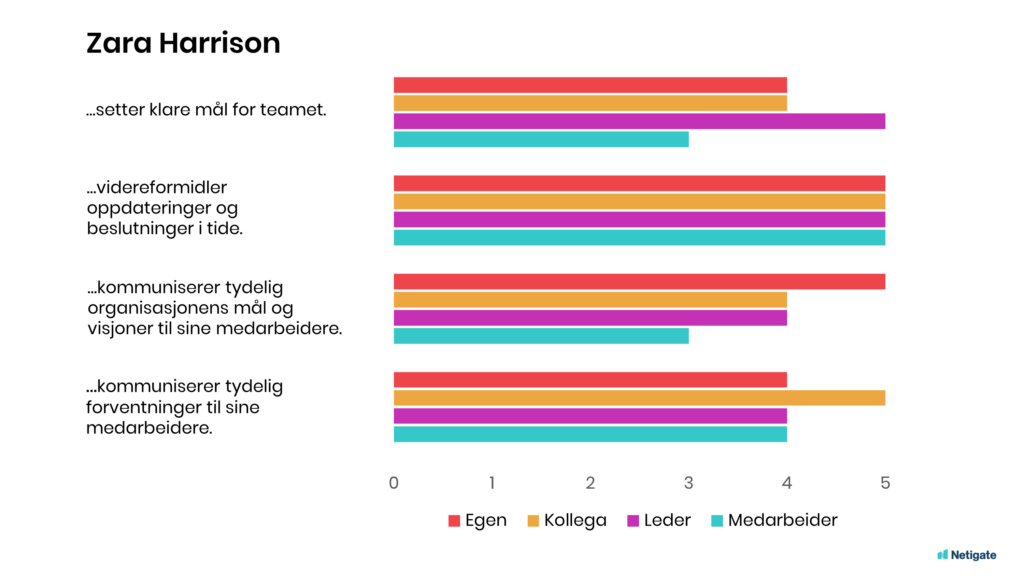 When is the best time for a 360° evaluation?
There are a variety of theories about where and when it is best to do a 360 evaluation. It is common for companies to have a development review every six months, and then there is often a 360 degree survey linked to the salary review. Others believe that if you conduct 360 assessments on an ongoing basis, everyone benefits.
New employees in particular benefit from repeated feedback sessions because they actively facilitate development. More frequent feedback also allows for specific questions related to specific projects, customers, or incidents within the company.
The less frequently feedback is obtained, the greater caution is required when interpreting the results. If feedback is only collected once a year, it might only reflect current conditions that don't necessarily reflect normal conditions or the average perception of the workforce. More regular feedback, however, provides a more realistic overall picture of the manager's impact through several measurement points.
How companies are using 360 degree feedback
It makes sense to use 360° feedback software to integrate the evaluations into your overall feedback system. You can incorporate it into your wider performance management and development plan, for instance, by linking it to performance reviews.
For example, the Munich Leadership Group are using Netigate as part of their development plan at executive level. They are using tailor-made 360 questionnaires from Netigate to tease out challenges and strengths in their management and leadership suite to create sustainable change. After each evaluation MLG are using their insights from the data obtained to create actionable measures and training opportunities. This is streamlined with the human resources department to make the feedback available for quick and easy implementation. In addition MLG is using Netigate for training evaluation surveys and pulse surveys.
What to consider when doing 360 feedback
It's counterproductive to ask questions that compare different employees. Even when the feedback is positive, the comparative tone can be harmful. These types of questions can create rivalry and a lack of motivation among your workforce. Questionnaires should also be free from vague, generalising or sexist questions and statements. Stick to concrete facts and ask questions in an unbiased tone.
How to effectively use the results
In order to achieve lasting effects from your 360 degree feedback processes, you have to openly discuss your findings, contextualise and reflect on them. Your employees' performance will benefit from receiving feedback if you discuss it with care and combine it with a plan for development.
After group and individual discussions, sensible measures for further action should be planned with those who gave feedback. This is the only way for your employees to see that their feedback really matters and that it is influencing positive change in the company towards a sustainable work culture.
---
Conduct a 360 degree evaluation with Netigate
Are you aware of your own strengths and weaknesses and those of your employees? If not, it is difficult to know what is required for the development of the company. With Netigate you get access to professional 360-degree feedback software that will help you to collect actionable insights for professional development.
Read more about 360-degree feedback and employee surveys or start your free Netigate trial today.