Netigate have a strategic way of working with customers that drives communication, problem-solving and progress. How do they do it? The secret is in dedicated, mixed-expertise success teams.
The customer's journey is paramount to Netigate – we want to be the number one choice for progress. To do that, we need to work together with our customers. To understand them and be actively involved in their progression. We call this the Customer for Life (#CFL) concept. To create the best possible partnership, our customers work directly with their dedicated team – a group of experts from different areas in the company. In each team, a customer will have an insight consultant, an account manager, a technical project manager and a research specialist. This combination of knowledge allows us to come to the best conclusion to assist success.
'At Netigate, we believe that we are responsible for the success of our customers,' explains Olof Willner, Head of Customer Teams Global. 'Customer teams make it possible for us to really make an impact and to help our customers.'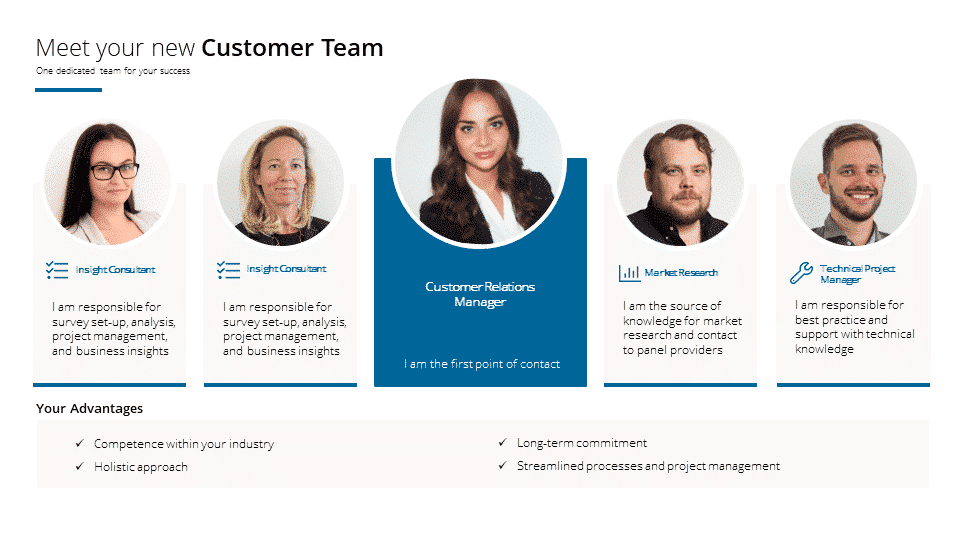 Experts from all areas
Each team member has their own responsibilities relevant to their specialism, offering customers the best solutions and advice. Jessica Riihimäki, an Insight Consultant in one of the teams says. 'By gathering our competences together we can act in a more streamlined way. Therefore increase the impact for our customers.'
Hanna Göthman is the team's Customer Relations Manager. 'I am the first point of contact for our customers,' she says. 'My responsibilities are to develop and grow customer relations, expand customers' use of Netigate and to coordinate customer requests.'
The Insight Consultants take responsibility for proactively delivering analysis and business insights. While Technical Project Managers bring their IT knowledge to customer projects. They ensure that customers are implementing best practice process within the Netigate platform.
'Together, the team supports the customer to understand their employees, customers and market better. To make the right decisions based on the right insights in order to progress further,' comments Olof.
Tailor-made solutions
Having an expert from each specialist area at hand means the customer has direct access to the help they need, when they need it. In addition, the team can, if required, collaborate to discuss options, consider the elements involved and offer the most well-rounded advice. This tailoring of solutions means there's no 'one size' for customers. They get the advice or solution that truly fits their needs.
'This team set up means we can collaborate more easily internally and thus create added value for our customers,' says Jessica. 'It helps increase our knowledge of the customer's journey. So we get to know our customers better, and can better tailor solutions to fit.'
Inspiration is infectious
Working in teams creates an inspiring, encouraging atmosphere. The insights and knowledge team members share together during problem solving acts as a creative stimulus, driving new ways of thinking, fresh innovation and motivation.
The team's Market Research specialist, John Kjellquist, comments: 'with the customer teams we can identify our customers' challenges better and give them an A+ experience.'
'I absolutely enjoy working in this way because there is so much to benefit from, both for us and our customers,' agrees Hanna. "It helps us open up new opportunities that may not have been discovered before.'
Insight Consultant Jessica also finds there are personal benefits from this team set up as well as customer benefits. 'For me personally, the way of working in these teams creates motivation,' she says. 'It also creates new opportunities to come even closer to our customers. It gives me a good long-term overview, in such a way that I know which customers are 'mine' and I can easily plan according to their needs and requests.
Alexandra Drottler, Insight and Research Consultant, found that being dedicated to specific customers creates a united effort. 'By working together with the same clients towards the same goals we increase internal awareness and focus within the customer team,' she says.
'We strive to always have a close dialogue with our customers. And thanks to the positive response we've had from customers, we know the dedicated teams are a success,' says Olof. 'Along with a close customer dialogue, we also always measure customer and employee satisfaction every step of the way. Measuring internal and external satisfaction is part of our DNA, and we practise what we preach.'
Netigate is one of the leading European providers of cloud based services for online surveys that are primarily used for customer feedback, employee feedback and market research. We help organisations gain valuable insights, make better business decisions and improve processes. Our clients range from small organisations to global companies in all industries, including many leading companies around the world such as Electrolux, Ericsson, Vodafone and E.ON.