Your employees have good attendance and seem happy in the office. That's enough, right? Wrong. Read on to find out why a staff survey might be your best investment yet.
The staff your company relies on have complex needs and opinions that can positively or negatively affect output. Therefore, staff surveys are an effective way to collect data and improve performance. This article defines the benefits of running a staff survey, what different types of surveys are available, and key considerations when designing your own.
What are the benefits of a staff survey?
Feedback from staff can be collected in many different ways. What all methods have in common are the benefits that staff surveys offer to your company.
Above all, the best benefit of a staff survey is the data. This data can be grouped according to your focus areas, such as recruitment, job satisfaction, or company policy. Collecting data from your employees can benefit the company in two significant ways:
1. They give employees the chance to feel heard. Sending questionnaires to your staff allows them to express themselves in a professional and protected way. It also suggests you care about their answers and their overall experience at work.
2. The value of the data itself.
This data gives you an overall insight into issues that are difficult to quantify. For example, what the perception of the company is from the outside or whether staff feel fulfilled in their roles. When you have this data, you can make changes that will positively impact your staff and their performance.
Staff surveys can also be useful predictors of employee behavior. Internal research from Facebook, as published in the Harvard Business Review, 'found that simply asking our people how long they intend to stay is more than twice as accurate at foretelling their future turnover than machine-learning forecasts'.
More significantly, employees who did not answer the staff survey were 2.6 times more likely to leave within 6 months. This information can be valuable for a company to plan in the medium to long term and can highlight problem areas that need to be addressed – before it's too late.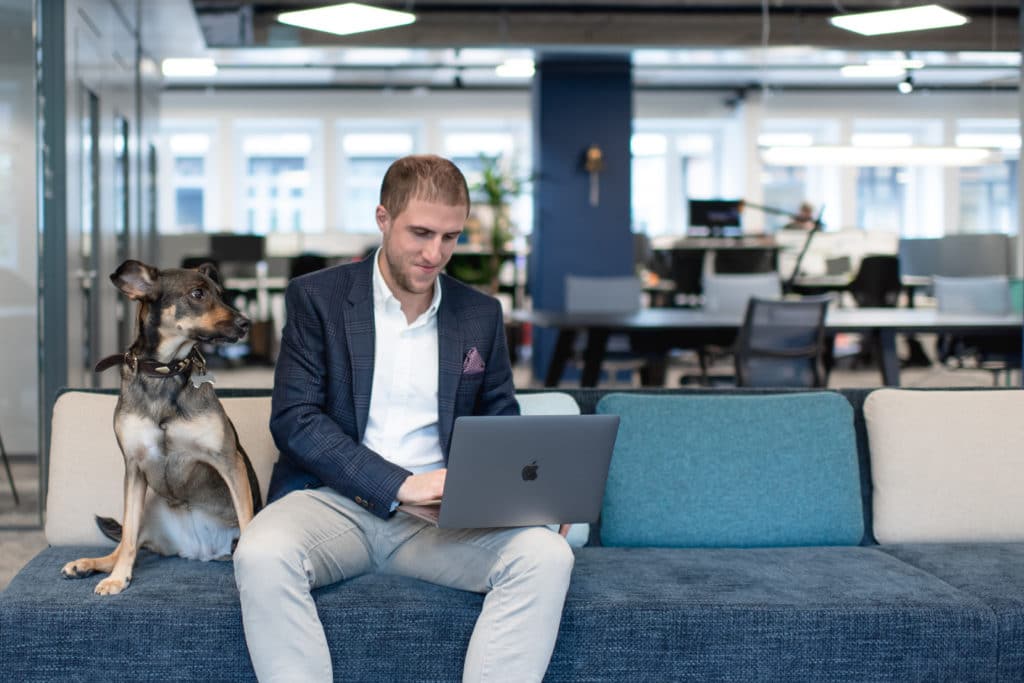 What are your staff survey options?
Employee surveys come in all shapes and sizes, so, it is up to you to decide which is best for your company. Alternatively, book an appointment with a specialist and they will be able to guide you. To get you started, we have collected some of the most common types of staff surveys and how to use them.
Employee satisfaction
An employee satisfaction survey includes multiple questions that give an overview of the satisfaction levels of staff. For example, questions in an employee satisfaction survey might be:
How satisfied are you with your current workplace?
Does your current workplace meet your expectations?
How close is your current workplace to the ideal one?
Employee engagement
Employee engagement uses an Employee Net Promoter Score (eNPS) to help you measure, track, and compare your staff's engagement. This is important because disengagement can be expensive, costing the USA alone over $500 billion annually.
Questions you find in an employee engagement survey might be:
Do you feel there is a strong sense of teamwork in the department/organization?
What is the likelihood you will still be working here in 5 years?
Are you able to have a work-life balance?
The goal of these questions is to measure staff enthusiasm and commitment.
360-degree feedback
A 360 review staff survey gives a deeper understanding of how the employee views themself, compared to the view of their co-workers. We ask the same questions to all employees, beyond linear management. Therefore, this provides a complete report of areas for development. It is also a way to combat blind-sports, for instance, how employees are seen by co-workers in other departments.
For example: Please rate (Subject's Name/Yourself) 's ability to work as part of a team.
In addition, the 360-degree feedback encourages employees to take accountability for their development and helps them identify clear career goals. This positively impacts employee engagement.
Employee onboarding
Employee onboarding is an investment in your key resource; staff. It creates a solid foundation from which to build a relationship and reiterate your company values. Example questions relating to the onboarding process are:
I am satisfied with the support in the introduction at the company
The company makes me feel welcome
I see myself working for the company one year ahead
To read more about how to design and implement onboarding processes that will benefit your company in the long-run, read the article, 'Onboarding: an investment that helps employees thrive'.
Exit interviews/exit surveys
Ever wondered why some of your best staff leave? Or if you could have done something more to make them stay? Well, exit interviews and surveys provide these answers for you. Relevant questions you might ask are:
What is the reason you are leaving us?
Could improvements in the company encourage you to stay?
Would you recommend our work-place to a friend?
If you find that your employees are being pushed out of your company, rather than being pulled by opportunities elsewhere, this is an issue that needs you need to address. However, a natural level of employee turnover is healthy and sometimes staff have unrelated reasons for leaving. Learn how to keep your best employees here.
---
Download now: Measuring employee engagement efficiently and continuously
---
How to get the most from your survey
You have invested time and resources into a staff survey, so, how can you be sure to get the best results? We have collected some of the most important things to think about when designing, collecting, and analyzing your staff survey. Don't forget, professional services can offer pre-designed surveys or support based on your defined goals.
Keep it short
Most studies suggest that a staff survey should take less than 5 minutes to complete and in that time you can ask nearly 30 questions. That is more than enough questions. Staff surveys that are too long have a high abandonment rate and less accurate answers, so, short and sweet is the key.
Objectives
Always state the reason for the survey and what you hope to achieve. You aren't just being nosey because there is a reason for collecting this data. Make it clear to your staff and explain what will happen with the results when they are published.
Incentivize
Incentives can increase response rate by up to 15% so choose something obtainable and relevant, for example, free coffee for departments with a 100% return rate or vouchers to win. Offer incentives for whatever your budget can stretch to and consider it an investment.
Share results
Communicate your results to reassure your employees that their opinion has been considered. Furthermore, any problems that emerge should be highlighted and shared company-wide, creating a level of trust.
Take action
There is nothing more disengaging than an employer that fails to listen. Show that you care by reacting to the results with a 'can-do' and positive attitude, in a timely manner. The fact that you receive results takes you one step closer to improvement, even if the results show that you have a long way to go.
Staff surveys increase staff engagement, highlight areas for improvement, and predict future behavior. They are an integral part of your employee retention plan and should be considered an investment for all companies that rely on staff for their day to day successes.