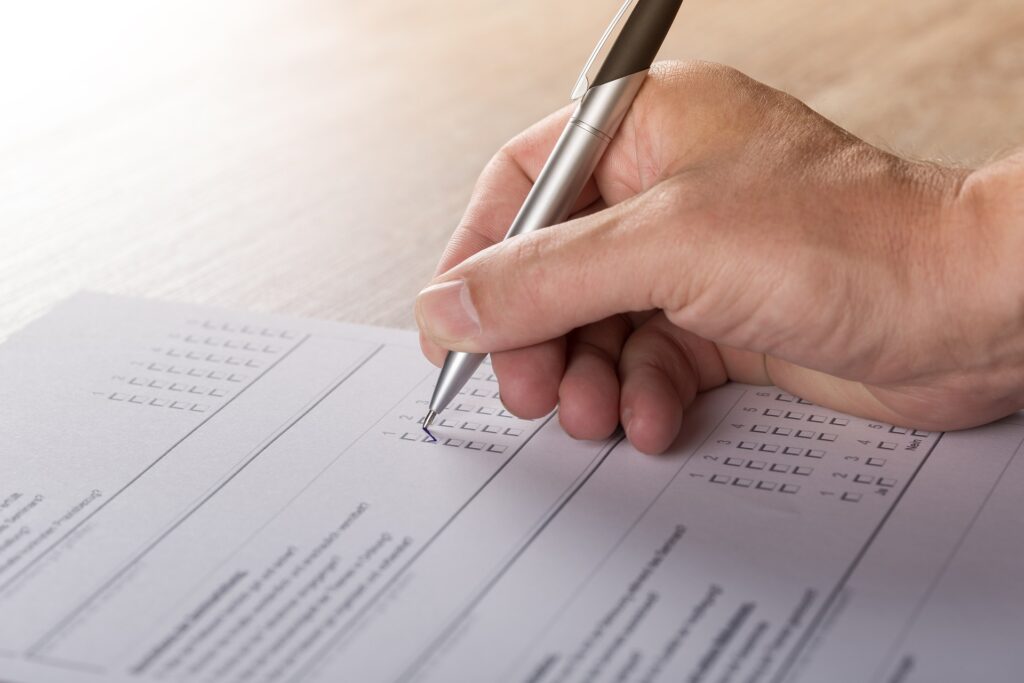 Digital surveys aren't just the future— they're dominating now. Yet there are still many pencil-and-paper questionnaires in circulation today. Scanning questionnaires from print and into the digital sphere is the next step to a digital transformation. In this article we'll give you key insights from our Netigate feedback experts on how you can easily import your paper survey into the digital world.
Many vendors promise easy scanning of paper questionnaires into a digital survey tool. However, this method is not without its problems and we aim explain the biggest issues with scanning paper questionnaires and how to overcome them.
Digital Surveys with higher security standards than paper-based surveys
Data security is one of the biggest advantages of digital feedback solutions. Integrating digital feedback software into your business can help ensure that your old survey data is not lost during the transition. This is especially important when moving paper based surveys, particularly when keeping track of if a large number of responses. Correctly transferring the data will ensure that none of the older survey information is lost.
Transforming your questionnaire into a digital survey by using Magic Import functionality
Netigate is feedback software with the simple solution to your problems. One of the easiest ways to convert analog feedback questionnaires into digital is with the function Magic Import. Once you have converted your paper surveys into a digital format, you can use "Magic Import" function to simply "copy/paste" your questions into your new online survey software.
The Netigate tool takes care of the rest, especially when it comes to the structure of your survey and questions. This means that it only takes a few minutes to digitise your paper questionnaire. Such a feature is great when it comes to converting surveys and questionnaires into a digital form. You can even continue using the same survey format as before without having to create a new one.
How to successfully continue using paper-based surveys while going digital?
When switching to a digital survey tool, you do not have to completely abandon the use of paper questionnaires if necessary. You can enter the survey results manually, import them or have a friendly Netigate assistant do the task for you.
If you're worried about transferring your paper questionnaire data into a digital tool, don't be. Netigate offers various solutions that will keep your data in one place while still collecting the information you need. For those just adopting the digital approach, we actually recommend a hybrid approach of digitalising in a step by step process.
QR-Code based surveys: The anytime-everywhere solution for your participants
QR-code-based surveys are the number one solution for helping our clients transition to digital feedback. Your participants can choose to scan the QR code and complete survey on any of their mobile devices. The method supports the stages towards digitalisation by creating flexible surveys and even leads to a higher survey completion rates.
The pitfalls of scanning features in digital survey tools
But why not simply use a scanning tool to include your pencil paper questionnaires in a digital survey tool? Several companies offer scan to PDF features in their feedback solutions.
These services are designed to take the hard work out of converting your paper surveys into electronic format. They allow you to quickly and easily upload your data into your new feedback software system. However, users complain about several issues related to these functionalities. Below are some of the most common complications when scanning past survey data:
Scanning surveys with handwriting in pencil can cause missing data. While some may prefer pencil over a pen, not all feedback software scanning features can handle handwritten text in this way.
Scanning questionnaires with incorrect margins causing inaccurate datasets. It's important to scan your survey in the correct size before you import it into your feedback software. Using the wrong margins will distort your forms, causing the data stored in your database to become distorted as well. Good feedback tools have scanning features that set corrects margins during scanning activities automatically, saving you both time and effort.
Omitting parts of the entire form. Be sure to scan all the pages in the survey before uploading it into your feedback software to avoid losing data.
Companies need plenty of surveys and data to validate the need of a scanning feature in their feedback solution. Such features come at a high price. These costs are hard to justify if there is too little data which may even be misinterpreted.
An environmentally friendly way to store feedback data
In addition to improving data security, digital feedback solutions also provide a more environmentally friendly way to store feedback survey data. You can store all of your information in a single, digital database instead of storing hundreds of physical documents. A digital database is naturally much easier to access and review.
Digital feedback software reduces data entry costs, as companies no longer need to buy and maintain a paper filing system. Additionally, all of this information is stored in a secure, cloud-based environment that can be accessed from anywhere at anytime. Netigate is not only GDPR compliant with servers in Europe, but also ISO 27001 certified. ISO 27001 is the international standard outlining best practises for Information Security Management Systems (ISMS).
If you want to find out more about the possibility of digitising past and future surveys, just request a personalised demo with one of our survey experts. The Netigate consulting team has helped hundreds of companies worldwide to digitise their surveys already, so you're in experienced hands with us.