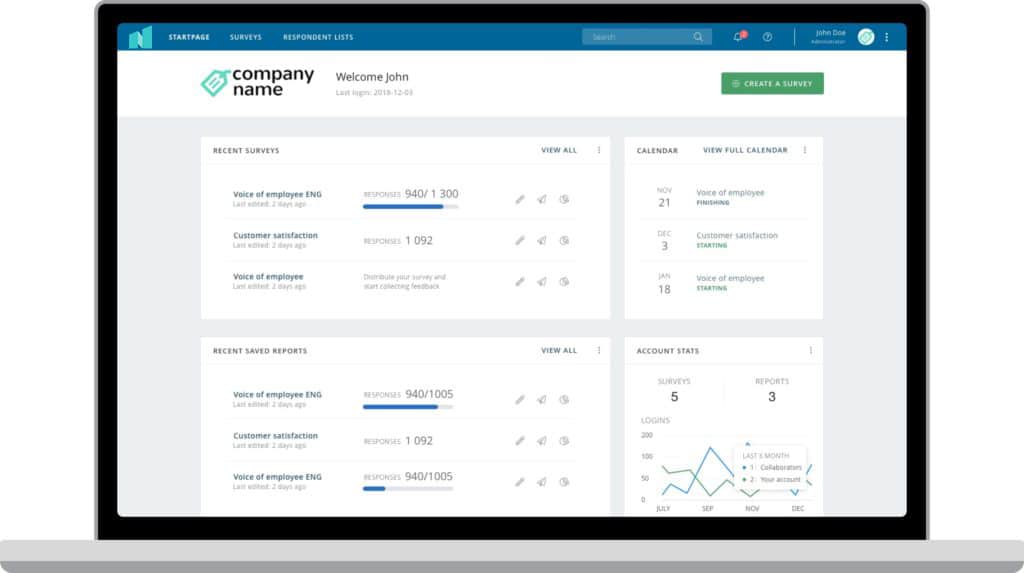 When it's time to create a survey, you want to get it up and running as fast and smoothly as possible. We want the same thing, of course. That's why we've completely redesigned and updated our Netigate interface for both new and returning customers.
Now it will be easier than ever to create, launch, review, and analyse your surveys, regardless of the type of survey or how much experience you have with Netigate's powerful survey platform. Much like our New Report, this update came from research and extensive user testing by our product team.
"We also want to get our customers onto the right path, right away," said UX lead Marie Nilsson. "So you choose what you're interested in when you're first signing into Netigate, such as Customer Experience. Now it's more intuitive, more user-friendly, no superfluous information."
A smarter survey process with the new interface start page
Once you first log in as a new customer, you'll see demo surveys as well as supplementary video and FAQ links to help you get familiar with the material. When you click on the green "Create a survey" button in the centre of the page, we'll instantly provide you with recommended template options for the most popular topics in Employee Experience, Customer Experience, and Market Research, based on what you've previously identified as your interest. These are conveniently sorted by segment.
Choose a blank template or a Netigate template as you prefer. When you click on a template, you'll get a detailed overview of the survey, including the number of questions, pages, language, average completion time, and if it contains any survey logic.
Over time, we'll start to recommend survey templates based on what you've run before.
"The biggest focus has been on cleaning up," said Nilsson. "We really want to guide our customers so there's no friction in the experience of creating a survey."
Easily view progress and performance with the new netigate interface
For existing customers, your Start Page will now include a cleaner overview of past and current surveys. As well as the addition of progress bars to quickly view response rates. You can view recently saved reports and overall statistics for your Netigate account. There'll also be a calendar widget showing the start and end dates of ongoing surveys, giving you an overview of all critical outgoing communications at a glance.
For all customers, we've also made changes to the survey overview page and respondent lists view. You can view a list of all surveys and see survey statistics (status, start/end dates, response rate) directly in the overview. The respondent list view has quick actions like editing data straight from the overview page.
Creating and distributing surveys
The new Netigate is a comprehensive overhaul of the entire Netigate platform to make improvements in terms of speed, ease of use, and flexibility. In line with that, we have also made improvements to the interface of creating and distributing surveys. More information on that will come in our next blog post, so keep an eye out for it.
Have any questions about any of our new features or what's planned?
Keep following our blog to know when the changes are rolled out to everyone. Along with other updates to Netigate's platform.