In September 2021 we conducted a survey about how Swedish employees have experienced working from home, their feelings about returning to the office, and how they want the workplace of the future to look. The survey is nationally representative, which means that the respondents have an even distribution of gender, age, region, income level, and so on. We have asked 2,145 randomly selected individuals who work full-time or part-time in workplaces around Sweden and have placed a particular focus on how perceptions differ in certain age groups.
---
Download: You can download the full report here.
---
Remote work
Generally, the flexibility to work from home is important to most employees. 59% of the employees who were not allowed/could not work remotely had wanted to do so if given the opportunity, while 64% of those who worked entirely from home during the pandemic state that they would consider changing employers for the opportunity to work remotely. Working remotely had been a trend before the pandemic, but now it is certainly here to stay with young employers especially keen on the flexibility of a hybrid approach. Generally, 47% of the respondents said that after the pandemic they want to distribute their time between the office and their 'home office.'
While there are challenges that come with working from home, such as technical problems, distractions, and the social aspects, many have praised the benefits of remote work. These include avoiding travel time, a more flexible everyday life and a better balance between work and leisure, as well as greater calm, less stress, and feeling more effective.
The workplace of the future
It makes sense that a majority favours a hybrid approach so they can balance the benefits of remote work with those of working in the office. This allows for social time with colleagues and collaboration in the office, as well as the flexibility and convenience of working remotely. However, this is not where it stops: the workplace of the future is even more spatially flexible.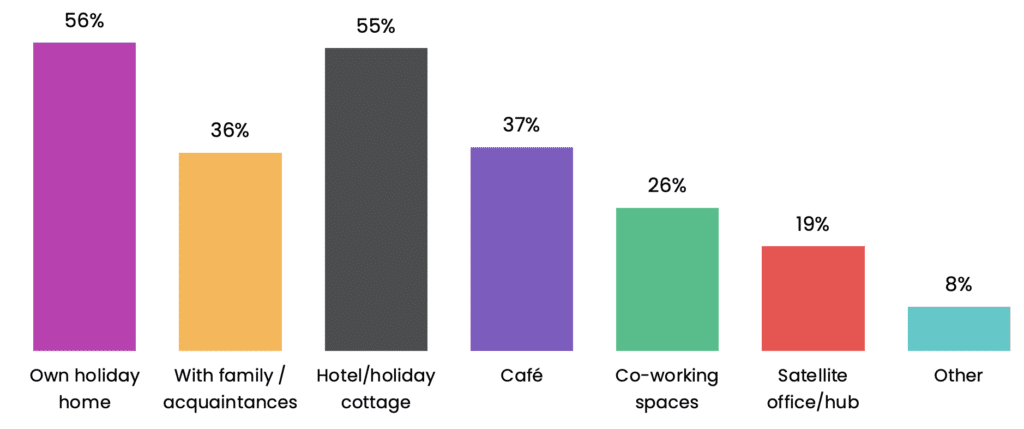 We all know the images of freelancers working from cafés or holiday cottages from every film or TV show we see, and workers are now considering this as a realistic option for themselves, with 47% of respondents saying they would like to work at other places, including:
their own holiday home (56%)
hotel/holiday cottage (55%)
café (37%)
with family (36%)
co-working spaces (26%)
satellite offices/hubs (19%)
… And what happens to the office?
Of course, a hybrid approach means that there will still be time spent at the office. However, it is interesting to see that different age groups have different priorities for how the office should look according to their evolving needs.
Having your own room is much more popular among employees who are 50 years or older, where 55% want their own room. Among employees under the age of 30, 36% want their own work space. More in this age group instead want to share a room with a few colleagues. Flexible workplaces are not popular with any of the age groups.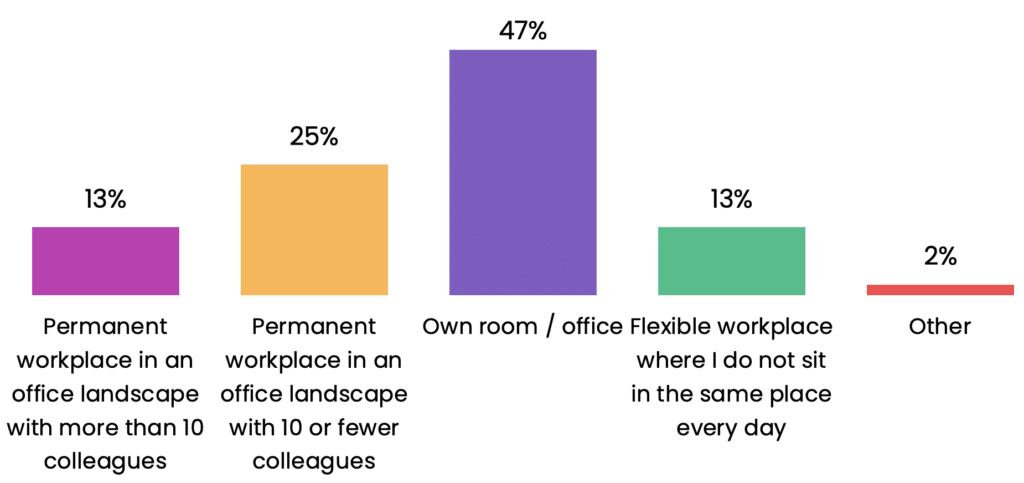 Younger people also see a greater need for social spaces in the offices of the future, while older people see a greater need for separate workplaces. Other improvements to the office should be made when it comes to digital tools, accessibility, better ergonomics, and improvements in terms of sound and lighting.
Our report also focuses on other important questions related to age, such as how age affects changing employers, the perceptions of productivity and discipline, as well as digital literacy. Find out more on this in the full survey.
What can you do to adapt to the workplace of the future?
If you have not already done so, communicate with your employees now and ask them what they need to make the return to the office a smooth one.
2. Think about how you as an employer should design the office to cover new needs that have arisen.
3. Our survey shows that more and more employees demand quiet workspaces, where you can focus. After sitting in a home office for 1.5 years, more and more people have become accustomed to silence. Therefore, make sure to design spaces in the workplace where quiet prevails.
4. Collect feedback from employees: how does it work for them today, how do they feel about returning to the office? And what can make them happy? Get employees involved in how you visualise your future workplace.
5. Take the pulse of your colleagues to gain important insights into what works well and what works less well. Do a pulse survey with Netigate.
6. If you as an employer are looking for new skills, you should consider the possibility of flexible work. This means that you can also hire new skills from all over Sweden and the world if the opportunity for flexibility exists.
7. There might be preconceived notions about age in your workplace, so do attitude surveys and employee surveys to understand if this is something your organisation needs to deal with.
---
Interested in doing your research?
How do your employees feel? 40 % respondents of our survey have reported that they have not yet had the opportunity to tell their employer how they would like to continue to work. It is vital that you actively seek those conversations with your employees if you want to keep them. 64 % said they would consider changing employers for the opportunity to work from home. With our easy-to-use feedback solutions, you can see how your employees feel and make actionable changes. We're happy to talk to you in more detail so get in touch via this contact form or start your free Netigate trial today.