Netigate is a trusted partner for more than 1,500 organisations worldwide.
SUPPLIER SURVEY DEFINITION
What is a supplier survey?
With a supplier survey a company collects information from its service providers and suppliers to assess their overall performance and identify potential risks or areas for improvement. Through surveys that cover various aspects of collaboration, companies can closely examine and strengthen their business relationship with suppliers, thereby improving the overall quality of the supply chain.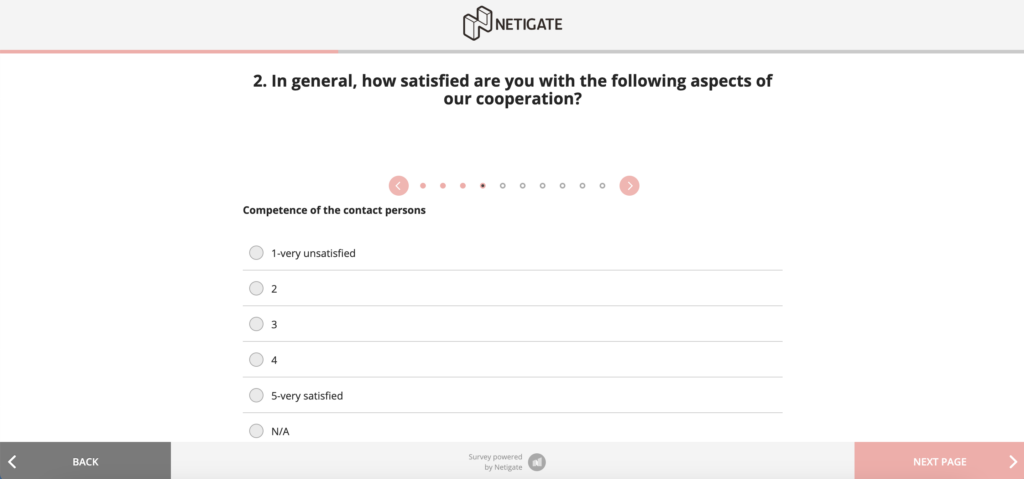 SUPLLIER SURVEYS GOALS
Why do you need a supplier survey?
A supplier survey is an important method for gathering information about suppliers and their performance. Its primary purpose is to create or enhance transparency in the supply chain. The aim of this survey is to overall improve the collaboration between companies and suppliers. Additionally, it seeks to enhance the quality and efficiency of supplier relationships.
Who needs a supplier survey?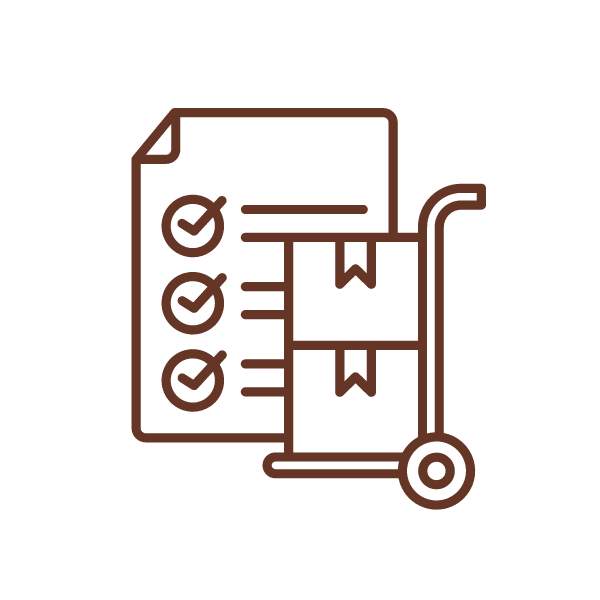 Procurement department
The procurement department of companies are often responsible for selecting and evaluating suppliers. A supplier survey can assist the procurement team in collecting both objective data about the suppliers and external feedback. Based on this data, they can choose the best suppliers.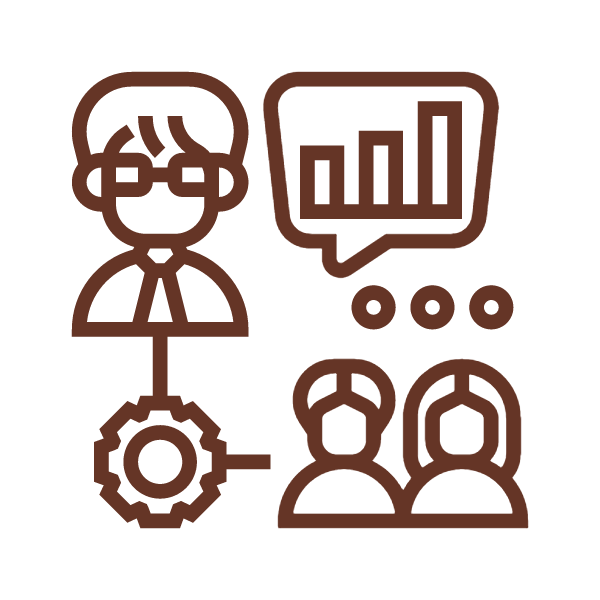 Supply Chain Managers
In complex supply chains involving multiple suppliers, supplier surveys can help monitor and continuously improve the efficiency and reliability of the supply chain. This allows for optimal planning and coordination throughout the entire supply chain, especially when surveys are sent and analysed regularly.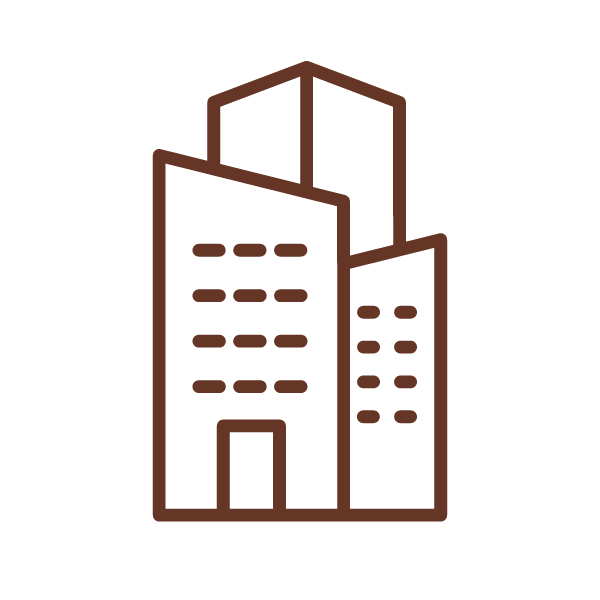 Companies
Companies that regularly source products and/or services from suppliers can conduct supplier surveys to consistently assess their suppliers' performance. This can help improve the quality of the products and/or services received and identify potential issues or bottlenecks early on.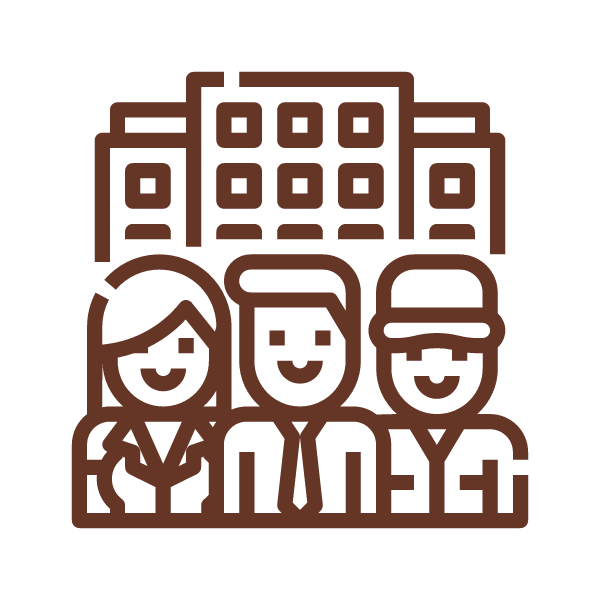 Industry associations
Industry associations can regularly conduct supplier surveys to gain an overview of supplier performance within the industry. The collected data can serve as the basis for benchmark analysis, helping associations identify best practices. This way, industry associations can assist their members in finding and selecting the best suppliers.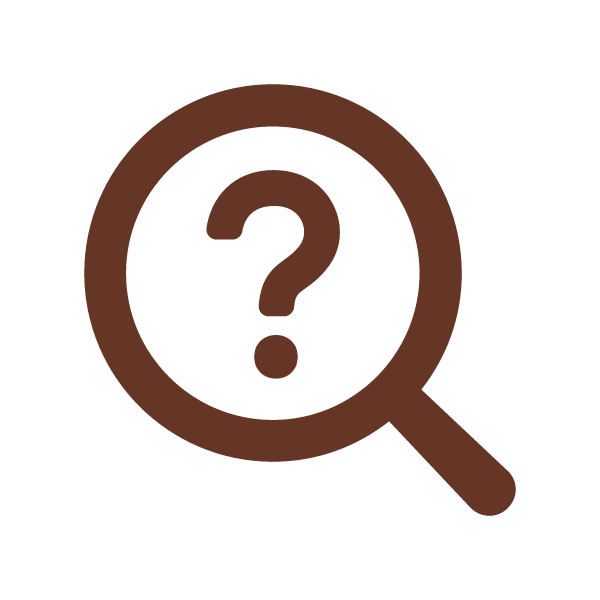 Are you unsure about how to start your project or surveys and would prefer an expert to guide you through our feedback management tool? No problem. Schedule an appointment with us. We are happy to provide you with free advice and address all your questions in detail about supplier surveys.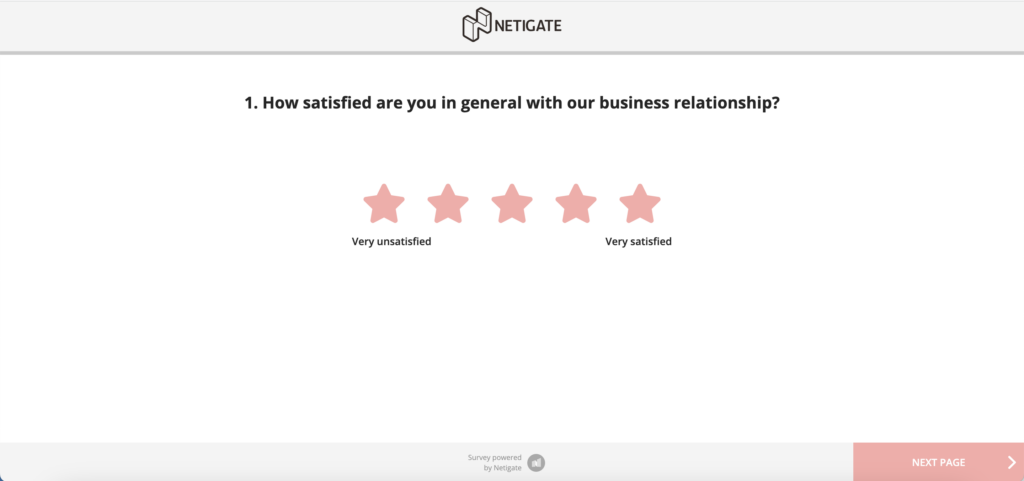 CONTENT OF NETIGATE'S SUPPLIER SURVEY TEMPLATE
What does the supplier survey template include?
In the supplier survey template, general aspects of cooperation are assessed, including cooperation with the company, quality of services, business relationship, order processing and behaviour towards suppliers and service providers. The following section assesses general satisfaction with specific aspects, including company communication, company processes, contract management, control measures or process controls and the availability and provision of important information. Finally, suppliers are given the opportunity to provide additional feedback to optimise future collaboration. You can customise this free template to your specific requirements and needs by adding, removing, or modifying questions. This template serves as a guideline and simplifies the process of creating a supplier survey.
SUPPLIER SURVEY VS. SUPPLIER SELF-ASSESSMENT
How does the supplier survey differ from the supplier self-assessment?
The supplier survey and the supplier self-assessment both collect information from suppliers, but
pursue different goals
. A supplier survey is a targeted survey to
optimise processes
. The company asks a series of questions to the supplier in order to obtain information about various aspects of the cooperation, such as quality, reliability, delivery times, customer service, etc. The supplier is then asked a number of questions. The supplier survey gives you valuable feedback to evaluate supplier performance and optimise your own processes. In contrast, the
Supplier Self-Assessment
is a questionnaire that the supplier fills out to provide information about their company, performance, certifications, experience, references and more. Often the self-assessment is used for the
first assessment of a new supplier
. The choice between the two approaches
often depends on your specific requirements
. With Netigate's Supplier Self-Assessment template, you can directly apply and send both to your suppliers.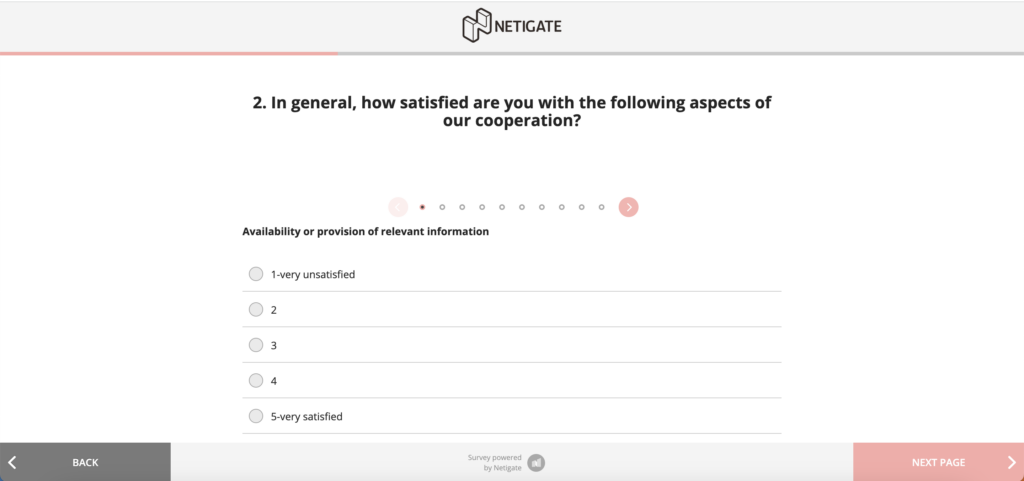 WHY NETIGATE
Successful supplier surveys with Netigate
With Netigate, small and medium sized businesses as well as large companies can quickly and easily create, customise and send surveys to suppliers to get valuable feedback. With our intuitive drag-and-drop interface, you can create supplier surveys from scratch or start directly with our templates. With multiple language options and delivery options, such as email, login lists, SMS and even local to terminals, you can reach your suppliers wherever it suits them best. Netigate's flexibility allows you to customise specific questions for each industry to gain meaningful insights. The data analytics and reporting capabilities help companies improve the customer experience and take effective, data-based actions to optimise processes. In addition, Netigate helps companies automate the survey process, which saves time and resources. Netigate also helps companies automate the survey process, which saves time and resources. Netigate's local support ensures that companies always receive professional assistance in case of questions or problems.
Master the supply chain law effortlessly with a digital solution: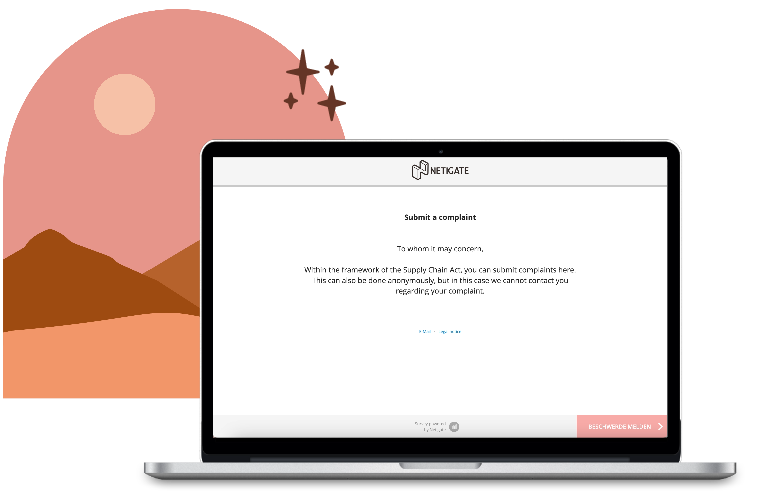 Discover how you can fulfil the due diligence obligations of the Supply Chain Act with Netigate's digital solution.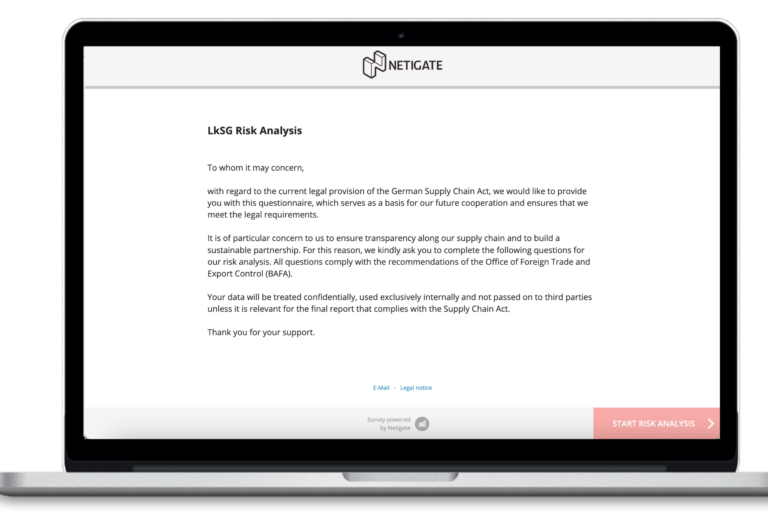 Risk analysis is the basis for effective risk management in companies. It enables the identification of human rights and environmental risks in supply chains and thus the assessment of risks in the overall context.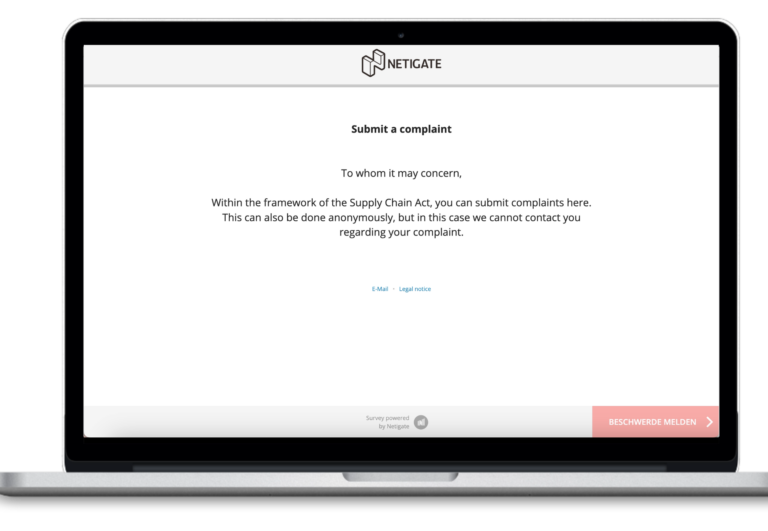 Learn how to effortlessly implement and manage an
LkSG complaints procedure. With our step-by-step guide, you can start with the template right away.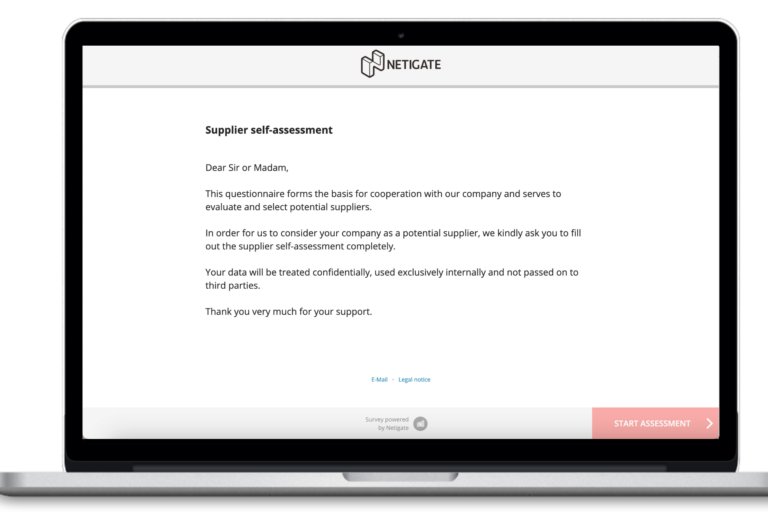 As an important component of supplier management, the supplier self-assessment helps your company to collect all relevant data about your suppliers, to check them for possible risks and to objectively compare them with each other.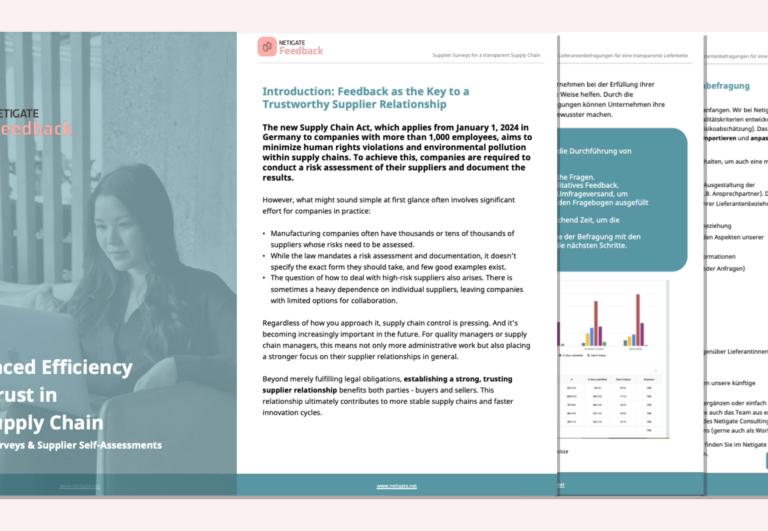 In our eBook, we illustrate with practical tips how professional supplier surveys and supplier self-assessments can help you meet the requirements of the Supply Chain Act.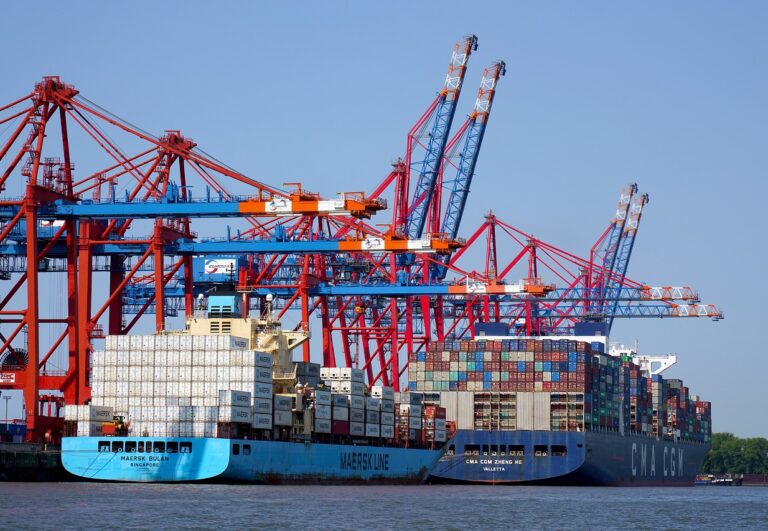 In this article we take a look at the Supply Chain Act and explain everything you need to know about it: What exactly does this law mean and how can companies comply with it?
To do this, we would like to give you a simple explanation of the content and implementation of the Supply Chain Act.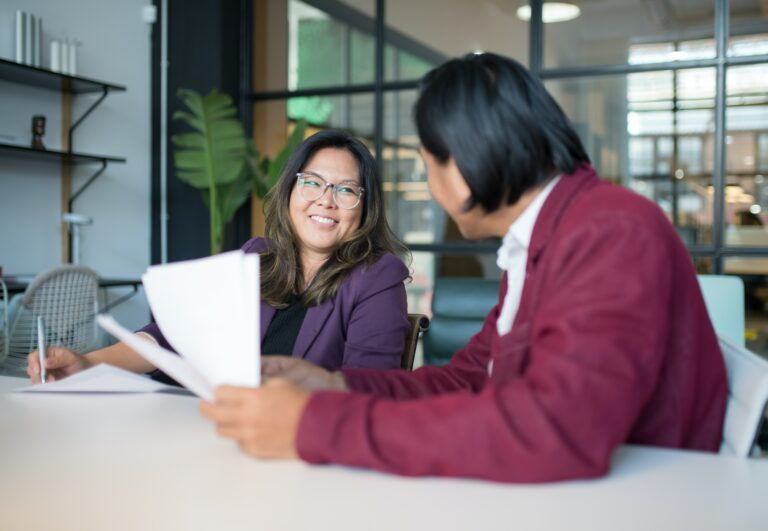 Find out how a supplier survey differs from a supplier self-assessment. Even though they can certainly both be carried out using the same survey tool. But what are the exact differences? And which one is better suited to your needs?
FAQs
A supplier survey template is a ready-made survey that companies can use to conduct a supplier survey. The template contains targeted questions that are relevant for assessing performance and cooperation with suppliers.

The template can cover various topics, such as the quality of products and/or services, cooperation and communication, reliability in delivery, compliance with conditions or contracts, customer service and much more.
The questions asked in a supplier survey template can vary depending on the specific needs and priorities of the company or department.
Here are some examples:

- How would you rate the cooperation with our company?
- How satisfied are you with the communication and interaction with our team?
- How would you rate the quality of the products/services we deliver?
- Have there been any problems with product quality or fulfilment of requirements in the past? If so, how were these dealt with?
- How would you describe the general business relationship with our company?
- How satisfied are you with the agreed contractual terms and payment modalities?
- How efficient is the order processing from our side?
- Do we meet the agreed delivery dates and requirements?
- How do you rate our conduct and cooperation with you as a supplier?
- How transparent and fair is our communication and interaction with you?
Yes, as a Netigate customer, you have free access to all templates in our tool - just like in the trial version, you can access the supplier survey template
directly and use it immediately
.
You can create your supplier surveys using Netigate's free template. With our simple drag-and-drop interface, you can design your own surveys from scratch, or choose our ready-made template when you click "Create new survey" after logging in.
Test Netigate here
and check out our templates.