What will the future of digital development look like? The pandemic has undoubtedly accelerated the digital transition and continued to change the way businesses are run and operate. The change has been swift and is putting pressure on us to think in new and different ways to adapt to the situation. To be able to take advantage of digital development, it's a good idea to keep track of future digital trends. In this article, we'll have a look at 5 digital trends for 2022 that you should be keeping an eye on.
1. Increased use of cloud services
Before the pandemic, many were skeptical about hybrid work and how well remote working would function. Now, on the other hand, hybrid work is starting to be seen as the 'new normal' and seems to be here to stay.
---
Get the report: Working from home is the new normal
---
Connected to the increase in hybrid work is the increased use of cloud services. For hybrid approaches to work smoothly, companies must have good software. Programs that use the cloud are practical when you work from home as this allows you to access the data you have stored in the cloud regardless of time and place.
This digital trend has further benefits. For example, a cloud service does not require any local infrastructure, which means that you only need to pay for the capacity you use. In addition, it is easy to scale up or down as needed.
2. Disappearing use of third-party cookies
Third-party cookies are used, among other things, to track consumer behaviour online. Many advertisers therefore use them to collect data and create personalised ads. However, several browsers have stated that they will no longer support third-party cookies, which massively influences all digital trends for 2022. Safari and Mozilla Firefox were early on with this. Now Google Chrome, which is the largest browser, has also announced that it will stop supporting third-party cookies in 2022. The reason for the disappearance of third-party cookies is to protect privacy.
The reduced support for third-party cookies mainly affects those who work in digital marketing. Without third-party cookies, it will be more difficult to target digital advertising in the future and companies must therefore review and adapt their business. It will now be more important to engage your target group in other ways. To create initiatives in order to attract potential customers to your website, you can, for example, spend more time producing and delivering interesting content of high quality.
3. Bridging the experience gap
Despite the fact that many companies collect data and identify behavioural patterns in their customers, a so-called "experience gap" arises when companies fail to meet the expectations of their customers. Customers today have countless buying opportunities and it is easy to opt out of one product for another. One of the digital trends for 2022 will therefore be to obtain the right data which can be analysed to gain actionable insights. It is becoming increasingly important to understand your customers and the focus on closing this "experience gap" is gaining more and more momentum.
In order to have access to insightful data and actionable insights, companies can conduct several different types of customer surveys. For example, you can measure the Net Promoter Score (NPS) to see how likely a customer is to recommend your company.
4. Focus on measuring the employee journey and customer journey in parallel
Digitalisation has, as previously mentioned, increased our need to understand our customers. The customer journey is becoming increasingly complex and many companies want to know how to go about analysing their customers' digital customer journey. But customers are not the only ones affected by digitalisation. Employees have also had to adapt to the change and high customer satisfaction begins with satisfied employees.
The customer and employee journey have previously been treated as separate occurrences. When employees do not feel satisfied or engaged, this can negatively affect the customer experience and vice versa. It becomes obvious hereby that the journeys are interconnected. Part of the digital trends for 2022 will therefore be to measure them as parallel to one another.
By starting to map the customer journey and the employee journey in the same way, it will be easier to take advantage of the benefits the journeys give each other. This can be done by measuring the results with the same type of KPIs for both trips, for example NPS and eNPS. In this way, you can connect the points between customer experience and employee experience.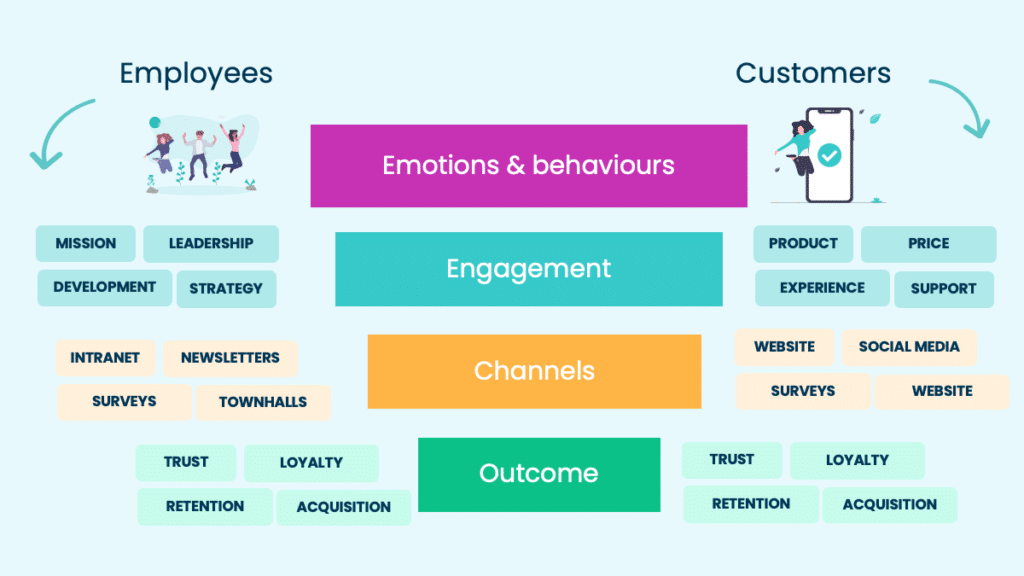 ---
Check out our CEO explaining more on this topic in our webinar Connecting the dots between eNPS and NPS!
---
5. The importance of a good website experience
Search engine optimisation (SEO) measures the usability of your website, which is important for attracting customers. You want your website to have high performance and load quickly so that more people will want to visit it. Your website is a showcase for your business. Customers should be able to find it easily and invited to click on it. At the same time, employees should be able to feel proud of it. Your website not only needs to showcase the products or services you offer, it can also be a great place to draw the attention to your employees. An easy way to understand what your visitors want more of is to do a website survey. This way, visitors can leave feedback directly on your website!
To achieve increased customer satisfaction, it is also good to offer customer support via your website. You can catch up on this digital trend by, for example, introducing chatbots. The development of AI has made it possible to develop effective chatbots that can offer customer support as effectively as your human colleagues in most cases. In 2022, chatbots are also expected to develop emotional intelligence which enables them to understand the intention behind a question.
---
Do you want to create effective surveys and gain actionable insights?
Netigate gives you the tools you need for your journey towards satisfied employees and customers. Get started with our surveys and drive your business forward! NPS, Onboarding, Exit, Churn surveys – those are just a few examples of the solutions we offer.
Register for a free test account, or call us directly at +46 (0) 8 411 71 10.