How do some companies always retain the best employees while other hiring managers struggle to fill vacancies with suitable candidates? The answer: high employee engagement! In this article we'll have a look at why employee engagement is essential and how you can increase it.
What do we mean by employee engagement?
Employee engagement refers to the emotional connection between employee and employer. It reveals the degree to which your employees are not just working for their salary, but are emotionally engaged in implementing company strategies and achieving goals.
The following feedback questions are particularly important:
Do the employees share the values of the company?
Are the employees satisfied with their work and all the associated influencing factors?
Are the employees loyal to the company and are they both motivated and engaged?
How is employee engagement different from employee satisfaction?
Employee satisfaction refers to how satisfied your employees are with their work, their working environment, or their manager. It thus forms the basis for a high level of employee commitment. Only satisfied employees can also feel emotionally connected to your company. However, it should be noted that satisfied employees are not automatically productive employees. You must also actively promote employee engagement.
---
Download: Measuring employee engagement efficiently and continuously
---
Studies show that engaged employees are not only more productive than unmotivated ones, they also solve problems faster and stay with the company longer. These characteristics of your employees result in the following advantages over your competition:
Increased customer satisfaction: Engaged and satisfied employees convey their positive emotions towards your company or products to your customers. You also have a good idea of how to fulfil customer requests.
Higher revenue: High engagement does not automatically mean high performance. However, it is true that motivated employees are also more productive employees and want to contribute actively to the company's success. In addition, you can reduce the number of days absent if your employees enjoy doing their work. This means your company has fewer losses and can record higher profits.
Lower turnover rate: Dedicated employees are not only absent less, they also leave your company less often. Think especially of the new buzzword 'quiet quitting' which is a result of non-engaged employees. This saves you high recruiting and hiring costs.
How can you measure employee engagement?
Employee surveys are a good way to measure the engagement of your workforce. They focus on one central question – the Employee Net Promoter Score (eNPS). It is a variant of the Net Promoter Score (NPS), which serves as a measure of customer loyalty.
The single eNPS survey question to measure employee engagement is:
"How likely are you to recommend your employer to a family member or friend?"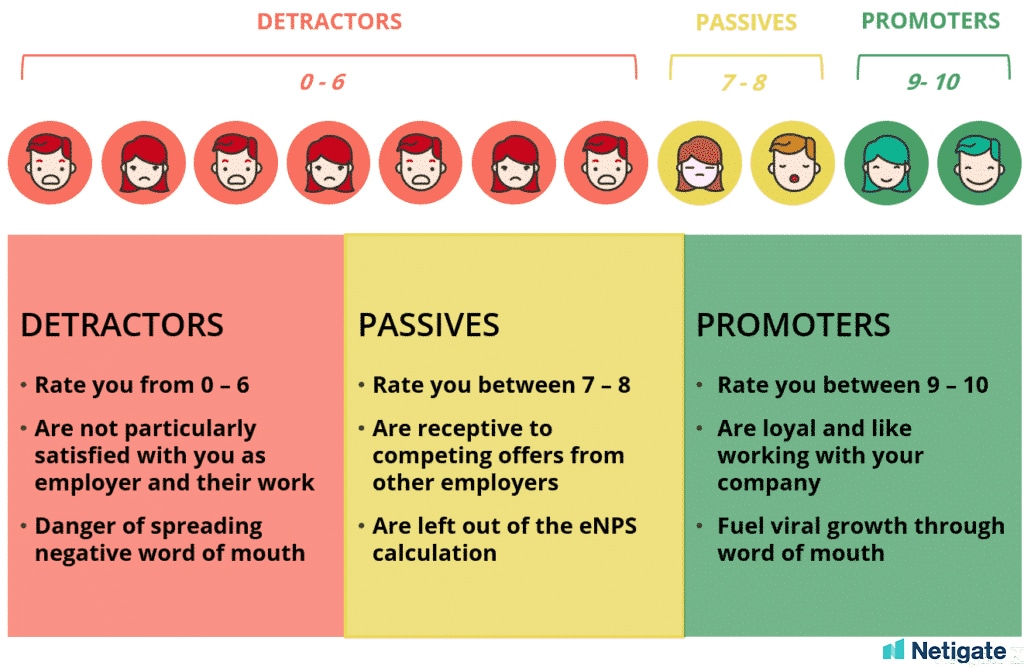 Based on the participants' answers to the eNPS question, you can divide them into the following three categories:
Promoters (answer with 9 or 10) are loyal and enthusiastic and are very happy to recommend their employer within their personal network.
Passives (answered a 7 or 8) are happy employees who are not very engaged and do not speak either well or badly about their employer.
Detractors (answered 0 to 6) are less satisfied. They are more at risk of speaking negatively about their employer.
To determine the eNPS, subtract the percentage of detractors from that of promoters.
eNPS = Promoters(%) – Detractors(%)
The eNPS is an excellent metric to look at changes in employee engagement over time using pulse surveys. This makes it possible to determine whether and which various factors have influenced the employees, for example within a year.
In addition to using eNPS software to ask that single question, you can also ask more specific questions about the satisfaction of your workforce, e.g. about internal communication, the working atmosphere, work processes, further training offers or appreciation with a broader VoE software.
10 tips to increase employee engagement
1. Create space for new ideas
Encourage and challenge the creativity and independent working methods of your employees. You should ensure a working atmosphere in which your team can develop freely and develop ideas independently. However, this also means that "slips" are accepted – after all, the implementation of new ideas always goes hand in hand with learning processes.
Managers can also create a pool for creativity and innovation by putting together international teams and implementing diversity as a basic principle of recruitment. When a large variety of different cultures, mentalities, and perspectives come together, it is an ideal breeding ground for the emergence of good ideas and will fuel employee engagement.
2. People need variety
Monotonous tasks bore everyone – and highly qualified specialists even more so! Bored employees are unmotivated, frustrated, and will also get sick more often.
Make sure your employees are deployed according to their qualifications. Pay attention to the design of the work areas: You should not only consider the scope of the tasks, but also their variety and their influence on the corporate goal. The different options granted when completing the work and the tangible feedback on the activity are also important.
3. Communication on the same level
Establish an open culture of discussion in your company: Take the time for discussions and show genuine interest though employee feedback. Ask questions, listen attentively, and take your colleagues' answers seriously. Use the know-how and knowledge of your employees and actively take up suggestions for improvement. You should then forward these to the responsible decision-makers if necessary and communicate how you are handling the feedback.
4. Finding a work-life balance
Employees exist outside of the office. Their lives not only include their careers, but they also have to run a household, want to spend time with their families, and make time for leisure activities. Good employers know that finding a balance here not only increases satisfaction but also benefits the company.
5. A good reputation makes you attractive
A well-known brand, high-quality products, innovation, and an excellent employee experience are all factors that contribute to a good company reputation. All of this, in turn, makes it easier to recruit qualified employees and generally increases employee satisfaction and engagement.
Good employers know their strengths and communicate them through professional PR measures, both internally and externally.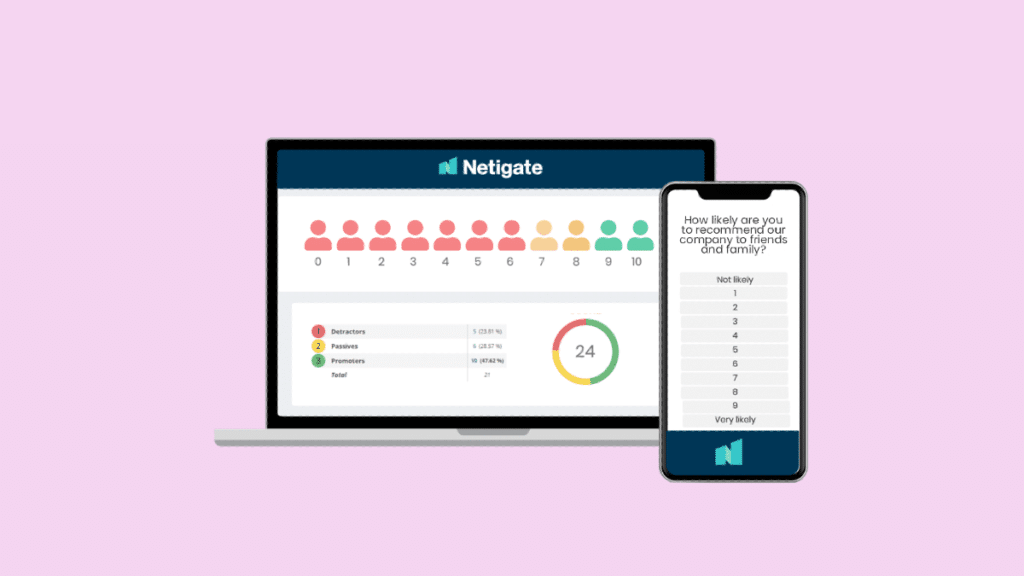 6. Team work makes the dream work
If everyone pulls together in a supportive team, demanding tasks can be mastered even under otherwise difficult working conditions. The sense of belonging in a team not only ensures the company's success, but it is also an important factor for individual employee engagement. Therefore, managers should make an effort to promote collegiality among employees: You can create opportunities for informal exchanges through company parties, excursions, or company sports, for example.
7. Working Atmosphere
Even the best employees cannot perform at their best in a toxic working environment. It is therefore important to cultivate a healthy working atmosphere and strive to establish constructive leadership through guidelines and coaching for managers.
First and foremost, this includes appreciation and trust as well as open communication. In such an environment, errors can be addressed constructively in order to search for solutions together. Set an example for your employees to work together as colleagues and also moderate conflicts that arise within teams.
8. Ergonomic & friendly: The perfect workplace
External conditions also have a major impact on the productivity and satisfaction of your employees. An ergonomic workplace, sufficient and at the same time pleasantly perceived lighting and appropriate ventilation not only serve to protect health but they also increase the feel-good factor.
The best possible protection against noise pollution is another factor. After all, your employees spend up to 10 hours a day at their workplace! Also ensure that the interior design of the work and break rooms is appealing, from the colour of the walls and the choice of office furniture to the decoration with artworks and plants. This will contribute to increased employee engagement.
---
Download: How has employee loyalty developed from 2019 – 2021?
---
9. Strength in diversity
If you initially think of equality in relation to gender, you're not necessarily wrong: Gender equality is about equal pay for equal work, the allocation of career opportunities based on qualifications above all else, as well as infiltrating careers perceived as typically 'male' and demystifying the notion that typically 'male' character traits are preferable.
However, modern diversity management is about more than that. The keyword is intersectionality. So in addition to adapting to the needs of women, this also includes working against bias and stigma when it comes to ethnicity or social background, as well as disability or long-standing health conditions. Diversity of employees strives to do justice to all employees in their individuality and holds valuable potential for the company.
10. Promote professional development with further training
Many employees will have a keen interest in keeping their skills up to date. This will benefit the individual and your company.
Support the lifelong learning of your employees in the area of technical knowledge as well as in the area of soft skills. In-house training and other opportunities can be supplemented by externally purchased training measures and providing employees with the options to attend seminars and conferences.
It is important to embed further training opportunities in the context of long-term career planning within the company: where do you currently stand, in which direction do you want to develop in the medium and long term, and what measures are required for this?
---
Conduct an employee survey with Netigate
Netigate provides you with the tools you need to listen to your employees at all touchpoints along the employee journey. Onboarding, pulse, exit surveys and annual employee satisfaction surveys are just a few examples of the solutions we offer. It has never been easier to learn from your employees.
You can register for a free trial account or contact us via this contact form.