What exactly is an employee survey? What types of employee surveys are there? And what should be considered when conducting one? This guide will talk you through everything you need to know to get started.
What is an employee survey?
An employee survey is an internal survey conducted within the company to collect the employees' opinions and assessments.
When conducting employee surveys, the intention is often to cover as many areas as possible from the life of the workforce in the company. This includes, for example, the psychological and physiological work environment, communication with management, and the relationship with colleagues.
However, you can also be more targeted in your survey and focus on the areas that are particularly important for your organisation. An employee survey is as individual as every company and yet they all pursue the same goal: making the workplace the best option for the employees.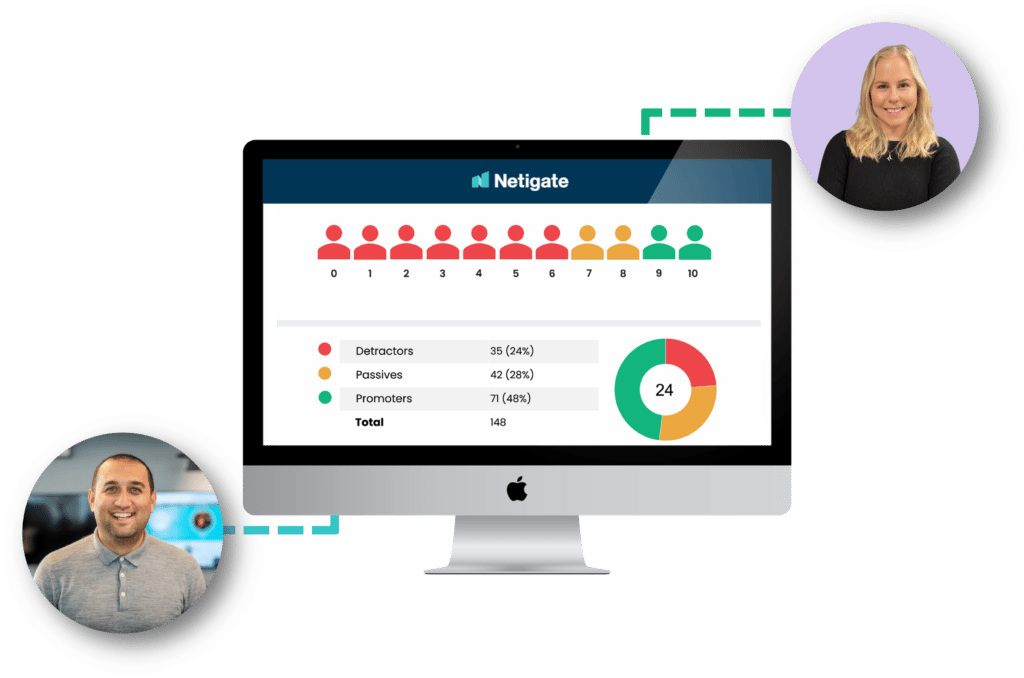 What types of employee surveys exist?
As mentioned before, there is a multitude of different employee surveys that cover different bases. We've summarised the most important ones here:
Employee satisfaction
A company-wide employee satisfaction survey provides information about the climate in your company. You can see what is already working well in your company and where there is potential for improvement to build a culture founded on feedback. It also important to note how closely employee satisfaction is linked to customer satisfaction.
Employee engagement with eNPS
With the Employee Net Promoter Score (eNPS) survey, you can quickly and easily measure the engagement of your workforce and employee morale. Using eNPS software helps you gain insights on a single question in which employees answer on a scale from zero to ten. The key question for measuring employee engagement is "How likely are you to recommend your employer to a family member or friend?" For more information on employee engagement surveys, see our How to Measure Employee Engagement eBook.
360° leadership feedback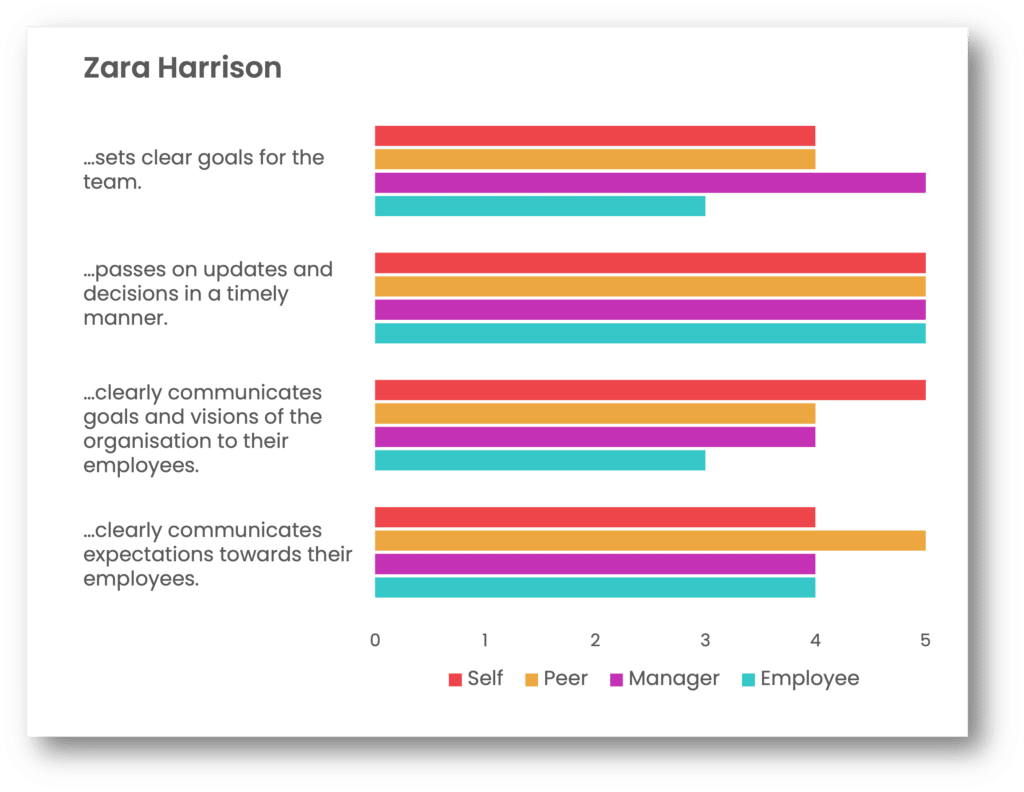 With the classic 360° feedback, you can evaluate managers on four different levels: through the superior managers, the colleagues at the same level, the subordinate employees and the managers themselves by means of a self-assessment. This way, a comprehensive comparison between external opinions and self-assessment is possible and you can uncover strengths and weaknesses in order to further develop your managers in a targeted manner.
Onboarding survey
For employee satisfaction and a quick integration into the team, it is important to make the hiring and initial phase in the workplace as positive as possible for every new employee. An onboarding survey gives you the information you need to ensure new hires get everything they need. You will also gain valuable feedback on how the recruiting process is perceived and what first impression the company makes.
Exit interview
Changing employers is part of most careers. However, it is just as common for employees to end their employment because they are dissatisfied with the job, their tasks, or the management. It is much cheaper in the long run to keep employees than to recruit new ones. Exit interviews provide you with the information you need to become an even better employer and to avoid losing your best employees.
Pulse surveys
A pulse survey is an employee survey conducted at regular intervals that reflects the development of your KPIs or other important aspects over time. Unlike annual employee surveys, which usually only show a snapshot, employee pulse surveys make it possible to see changes and improvements in employee satisfaction overall and throughout the year.
What should you consider in your employee survey?
For the successful implementation of an employee survey, you need to make sure to meet basic framework conditions:
Preserve the anonymity of the participants. Employees need to feel safe. If there is any doubt about this, it will be reflected in your response rate.
Observe the data protection regulations. Involve your data protection officer in the creation process and inform your employees extensively about the survey.
Inform yourself early and extensively. Use the various channels of your company to provide comprehensive information about the upcoming employee survey. In this cover letter, inform your employees about the implementation phase, the duration, and the goals.
Get your works council involved. This support will increase your workforce's confidence in the survey and increase your response rate.
Formulate the questions carefully. A lot can go wrong when creating a questionnaire. Read our tips on how to create an optimal questionnaire here.
Communicate the results. Inform your workforce about the results of the survey and explain what measures will follow. Without subsequent communication and derived measures, the impression is created that the feedback given will not change anything, which will reduce the willingness to participate in future surveys.
Here is a checklist for an Employee Experience (EX) survey.
How do you conduct an employee survey?
You can divide the employee experience survey implementation process into three sections: preparation, data collection, and evaluation.
Preparation process
First, you should work out what goals you are pursuing by conducting your employee survey. This will help you both in the subsequent creation of the questionnaire and in the evaluation of the results. In addition, goals ensure more transparency in the company, since every employee can see why participation in the survey is important.
Once you have determined the goals, you can create the questionnaire. The questions and the common thread are based on these goals. Netigate has assembled a large number of survey templates for your surveys, or you can use a simple drag-and-drop tool. This way, each company creates its own personalised surveys. Do not forget to test the questionnaire thoroughly and check for errors before starting the survey.
Data collection
In this phase, the questionnaire is sent to your employees either online or in paper form. Be sure to include the estimated response time in the cover letter to increase willingness to participate. In general, a questionnaire should never take longer than 10-15 minutes to answer.
This process should usually take about three to four weeks, but it depends on the size of your company and how many employees you want to reach – possibly even internationally.
Evaluation
Once you've completed the data collection phase, you must evaluate the results as soon as possible in order to record the current status of your company. Be sure to present the data clearly in results reports so that you can see at a glance which areas are working well and where improvements should be made. The results are then presented to the management and the employees are initially notified.
Netigate reporting is designed in such a way that even very large amounts of data can be processed at high speed. Results can be filtered as needed, such as by individual responses or by timeline. This gives your company the advantage of not only reacting to negative feedback, but also being able to act in a targeted manner. Another plus is the powerful export and sharing of data: the detailed, personalised, and visualised results can be transferred directly, including corporate design, to a PowerPoint presentation or PDF file and sent to everyone involved by email.
Goals of an employee survey
Companies pursue many different goals with employee surveys. The following are some of the most important ones:
Assess employee loyalty: Employee surveys can show how attached employees are to the company. Such results are particularly useful for undesirably high churn.
Optimisation of workflows: It is not uncommon for employee surveys to be carried out when dissatisfaction or a faulty process becomes apparent in a company. With the help of employee surveys, it is possible to find out which parameters need to be adjusted to ensure a smooth creation or optimisation process.
Quality Assurance: Employee surveys can also be used to determine each employee's work style and skills, which in turn can significantly affect the quality of a company's products or services.
Read: Employee surveys and their results – how to evaluate your feedback channels.
How should you deal with your results?
The most important phase follows the evaluation process: implementing target-oriented measures for improvement. First, inform the managers about the upcoming process and set a rough plan. The results should then be examined in detail in various workshops and measures should be formulated. Also communicate this to all employees so that they can see that the feedback process is being pushed forward. Please also give reasons if individual implementations require time. Your workforce will understand this as long as they see you addressing the challenges.
The most important thing about an employee survey is that you as a company take action. Otherwise, there may be increased dissatisfaction among employees because they do not feel heard by you and their willingness to participate in future surveys will decrease.
Benefits of an employee survey
While employee surveys present some organisational challenges, they are proving to be an efficient tool for HR. Employee monitoring can help you understand business processes and, when done properly, offers numerous other benefits:
Recording of relevant company data through direct employee feedback
Diagnosis of strengths and need for action
Promotion of communication between the company levels
Employee motivation and participation
Define the duration of employee surveys
The decisive factor for determining the number of survey participants is the processing time made available to them. On the one hand, investigations should not take too long – employees can delay participation and eventually forget. On the other hand, employees who were not present for a certain percentage of the survey period must also be given the opportunity to participate. A period of about two to a maximum of six weeks is usually set. In any case, engagement reminders should be sent in the middle.
---
Calculate the ROI of employee experience.
---
How often should you conduct an employee survey?
There is no generally applicable and ideal rhythm for surveys. Whether regular pulse surveys once a month or twice a year for a more structured and formal survey, it depends on your company, the current status, and the goals you want to achieve. You should remember that employee surveys are ultimately as effective as the time, effort, and dedication you put into them. You can also read more about the frequency and regularity of employee surveys.
---
Netigate provides you with the tools you need to listen to your employees at all touchpoints along the employee journey. We offer you a complete employee survey software solution. Onboarding, pulse, exit and annual surveys are just a few examples of the solutions we offer with our VoE software. It has never been easier to learn from your employees.
You can easily book a demo or register for a free test account.