Last Spring, we conducted our first working from home study in Sweden. How were people coping with the transition to remote work after the onset of the pandemic? Did people want to continue working remotely in Sweden? Were they thriving in the home office? This January, we've conducted a follow-up survey, reaching out to 2055 randomly selected participants. The purpose was to get a continued understanding of how Swedish employees want employers to handle home working after the pandemic. The result? Flexible hours and remote work look like they're here to stay.
Download the full report here.
53% of Swedish employees work from home full-time or part-time
Of all respondents, 47% work from their regular office, 32% from home, and 21% from both home and the office. In the survey we conducted last spring, we saw that 42% worked from home. Thus, we have seen an 11% increase in the number of Swedes who are now working from home since the onset of the COVID-19 pandemic.
A large majority want the option to work both from home and the office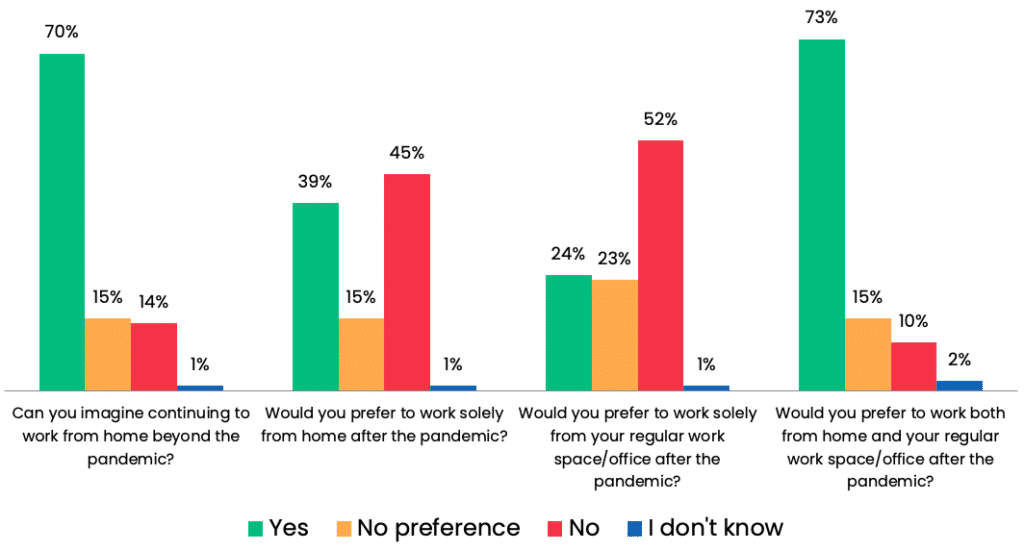 51% of the survey participants felt that remote working has improved over time, with many of them seeing the benefits of working from home. However, 73% were still in agreement that a mixture of remote and office working would be most desirable when a return to work is possible.
What is the perfect balance when it comes to working remotely in sweden versus in the office
When we asked respondents to define the perfect balance between home and office working, the results were close to 50/50. 46.77%
Women thrive between than men when working remotely
Based on the survey data, women do better at working from home than men. They also tend to feel more positive about continuing remote work beyond the pandemic. Women feel, to a greater extent, that their productivity, concentration, work-life balance, and job satisfaction have all been positively affected by a move to working from home.
For some aspects of home working, the age of employees also seems to make for a difference of opinion. For those aged 50 or over, they felt less positive about working from home after the pandemic. On the other hand, employees aged <40, tended to feel they were positively affected by home working.
The rising demand of flexible working
75% of respondents want the company they work for to be more flexible when it comes to remote working— even beyond the pandemic.
The vast majority of employees in Sweden believe that the COVID-19 pandemic has changed what the future of work will look like, even after the spread of infection has ceased. 75% of respondents want the company they work for to be more flexible when it comes to remote working— even beyond the pandemic. It's clear that working remotely in Sweden looks set to become the new normal.
What can employers do to adapt to the new normal?
In conclusion, we can say the working from home is here to stay as far as Swedes as concerned. As a result, employers need to be agile, and adaptive when it comes to the future of work. So what can you start doing now?
Clearly communicate your approach to working from home once the spread of infection has ceased. Do it as soon as you can, because people are already thinking about the future.
Recent research and surveys are showing that people choose to work from when focus is required, but seek out the office to be creative and social. Seek to create conditions for creativity and social interaction in the workplace.
Collect feedback from employees relating to how remote working is working for them today, and what support they need to continue. Be sure to involve employees in the planning for your future workplace.
New employees benefit from working in the regular workplace/office. This onboarding period is most successful when conducted in person.
As an employer, you can now seek out the best employee talent from all over Sweden and the entire world. With remote work, we are longer limited by geography.
Ultimately, you should be focusing on quality and results. WHERE the work is done is not going to be as important.
---
Interested in doing your own research?
With Netigate, you can create surveys to gain insights into your employees, customers, and markets. You can design your own surveys from scratch, or use our expertly-crafted templates. There are also numerous distribution options to choose from, so you can reach people on their terms. Do you want a guided your? Contact us today and we will happily show you around!