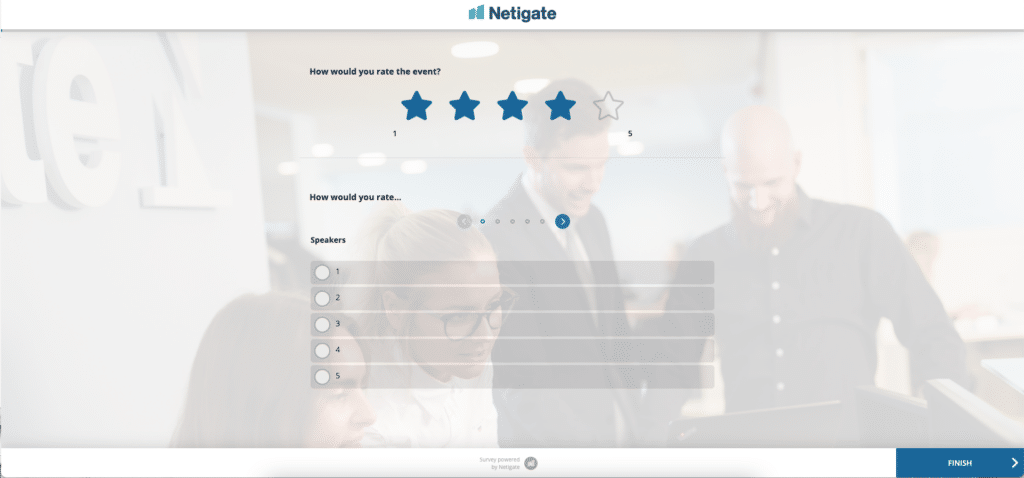 Educational institutions rely on direct feedback from their training and seminar participants. That's why many academies and training providers send out their own surveys directly after each seminar or event.
But with, let's say, 100 seminars per year, this creates a considerable amount of work: It's not only about setting up 100 different surveys for your participants. It can also be difficult to evaluate and combine the results.
So what can you do? In the following, we have compiled 7 helpful tips specifically for seminar evaluation. With the right approach, you can significantly reduce your seminar survey efforts. You will also be able to gain new perspectives on your educational offering and the needs of your participants and teaching staff.
The good thing is: With Netigate, you benefit twice as an education provider. With our survey tool, you can conduct your surveys professionally on your own and record the results. Our employees at Netigate Consulting also support you in all questions related to "feedback management": from the correct design of your questionnaire, the selection of your target groups, and, if desired, the evaluation of your questions. Already today, dozens of educational institutions from all over Europe use Netigate's services to tap the full potential of their offerings by means of feedback.
But now let's come to our practical tips: How do you make your seminar surveys more efficient and meaningful?
Tip 1: Say goodbye to paper surveys for seminar evaluation.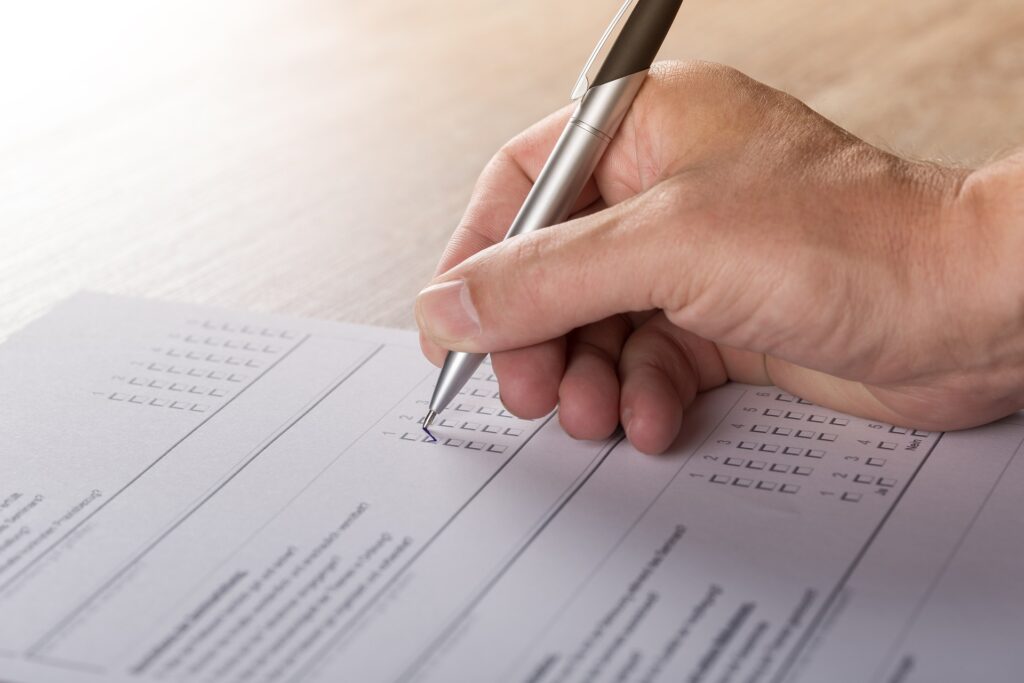 In many seminars and training programs, printed paper questionnaires are still handed out to participants. And there are some good reasons for this: Once created, the questionnaires are quickly printed out. In a face-to-face seminar situation, it is also easy for the participants to fill out the surveys directly at their seats and thus achieve a satisfactory response rate.
But that's basically it for the advantages of a pencil/paper questionnaire. Otherwise, the arguments for using a digital survey tool outweigh the disadvantages:
You already need a digital survey in the increasingly offered type of hybrid or online seminars
Digital surveys allow more touchpoints with the user on all devices. And even in a face-to-face situation, you can simply display or post a QR code with the survey link at the seats.
Data analysis takes place directly in the online tool – eliminating tedious, expensive, and error-prone data typing.
Data can be transferred directly to your IT tools
The questionnaire design online can be provided with logic, based on the individual answers of the participants
…and, and.
Our blog article provides you with more information on the topic of digitizing paper surveys
Tip 2: Determine the right KPI for your seminar evaluation.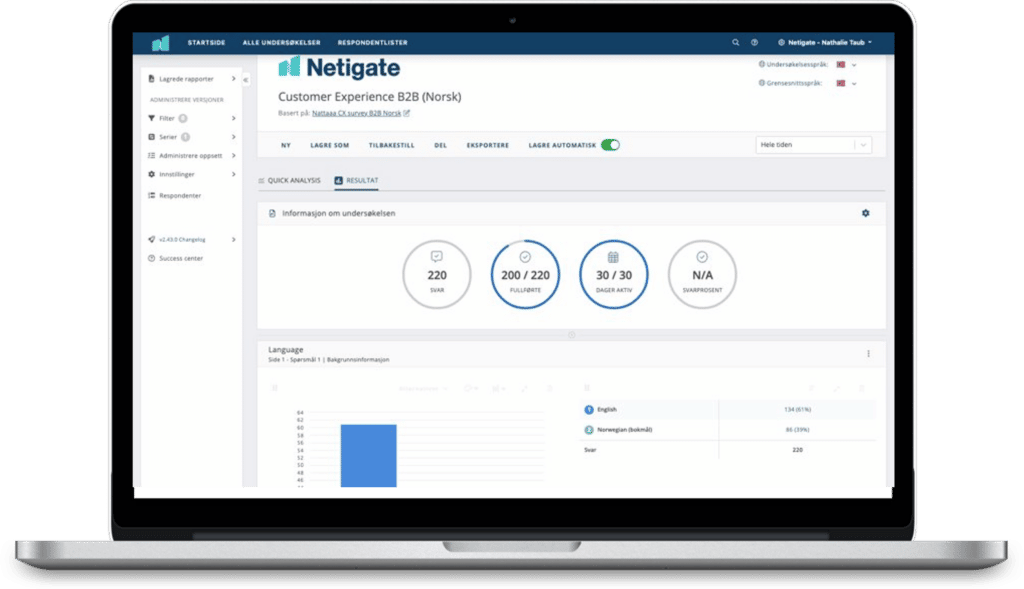 With your seminar feedback, you don't just want to evaluate the individual seminar experience. Regular surveys should also serve to improve your educational offering in the medium and long term. By measuring defined key performance indicators, you thus put yourself in a position to measure your developments and measures over time.
Therefore, always make sure to ask the standard question for your metric in your seminar surveys. Common metrics include CSAT (Customer Satisfaction Score) or NPS (Net Promoter Score).
CSAT measurement for seminars
Example of a CSAT question for seminars:
Learn more about Netigate as a CSAT tool
NPS measurement for seminars
Example of an NPS question for seminars:
Learn more about Netigate as an NPS tool
However, it is also important that you not only record the key figures alone but above all also ask appropriate (open) follow-up questions. This will enable you to better interpret the result of the key figures and derive the appropriate actions.
Tip 3: Simplify your survey setup for seminar feedback
Sending individual questionnaires per seminar is often common practice – but unfortunately can also be inefficient.
For example, consider the example at the beginning of this article: If you host 100 seminars per year, you'll need to set up and send out 100 different surveys. That quickly becomes… very complicated!
Our tip: Develop – together with our Netigate experts if you like – a master survey (including a key figure query), which you then provide with individualized entry links for each seminar.
So after each seminar, you send out the link to a survey instead of having to create new surveys over and over again.
This means:
You drastically reduce the number of active surveys – for example from 100 to 1.
You get consistent results over time
You can easily filter and segment results by individual seminars
With your seminar feedback, you don't just want to evaluate the individual seminar experience. Regular surveys should also serve to improve your educational offering in the medium and long term. By measuring defined key performance indicators, you thus put yourself in a position to measure your developments and measures over time.
Tip 4: Segment your feedback program for seminars with background data
Any feedback program will be more meaningful the better you have segmented and structured your background data in advance. This is because you will be able to identify "patterns" and trends in specific target groups or areas.
So before you launch your first survey, it makes sense to structure your data. For example:
By target groups (e.g., employees, customers, entry-level, professionals).
By curriculum and subject areas
By location
By seminar type (online, face-to-face).
By integrating this data into our survey platform Netigate, you can then set the appropriate filters in the responses.
Tip 5: Develop your seminar feedback journey
A good feedback program for your educational institution consists of more than just evaluations of past seminars. This (very essential) survey form only captures the experiences made with you as an education provider.
But what about the systematic search for new topics or locations? In what direction would you like to strategically develop your educational offering? And what about feedback from your own trainers or lecturers?
In order to clarify these questions, we recommend that you develop a "feedback journey". To do this, simply record on a piece of paper or in a PowerPoint file the contact points at which you would like to gather feedback on the various issues.
For example:
Annual satisfaction survey of all participants.
Survey of a specific target group on topic preferences
Semi-annual satisfaction survey among instructors
Transactional survey directly after each seminar visit
…
With a complete overview of your feedback journey, it will be easy to develop or set up the appropriate surveys.
Of course, we are also happy to support you personally in the development of your individual feedback journey in the education sector.
Tip 6: Enable direct feedback for your instructors
Of course, your trainers and instructors are interested in feedback on their courses. With individual report links, you can easily and automatically provide your teaching staff with a kind of "feedback news ticker". This gives teachers direct access to the seminar evaluations that are relevant to them and allows them to respond quickly, for example, in the event of queries.
The advantage for you is that you no longer need to create and send reports manually. In your administration, this means that more time is available for the actual tasks of supporting seminar participants.
Tip 7: Automate your feedback
Do you send out regular surveys, for example to participants after they have attended a seminar? Then it makes sense, for example, to automate the sending of survey invitations to participants. This is usually done via an API interface and works very easily: You simply set up a "trigger" in your CRM system or seminar administration tool (e.g. "Seminar visit done"). Whenever this trigger event occurs, the corresponding participant data is transferred to the survey tool via the interface, and a survey invitation is sent automatically. What this means for you is that you save manual effort, and time and minimize the error rate for invitations.
In addition, you can transmit further background data via the interface (e.g. name of the participant, target group, etc.), so that on the one hand the survey itself can be individualized, and on the other hand, the survey results can also be prepared according to this background data.
Seminar feedback professionally obtained
As you can see: Feedback is essential for every educational institution. Thanks to the feedback from your participants, you are able to improve and develop your seminar offering in the short, medium and long term. And not only that: thanks to systematic inquiries, completely new ideas for new topics emerge, which you as a seminar provider can develop.
And: With the right survey tool and feedback partner at your side, you can collect seminar feedback highly efficiently and professionally. Feel free to contact us!